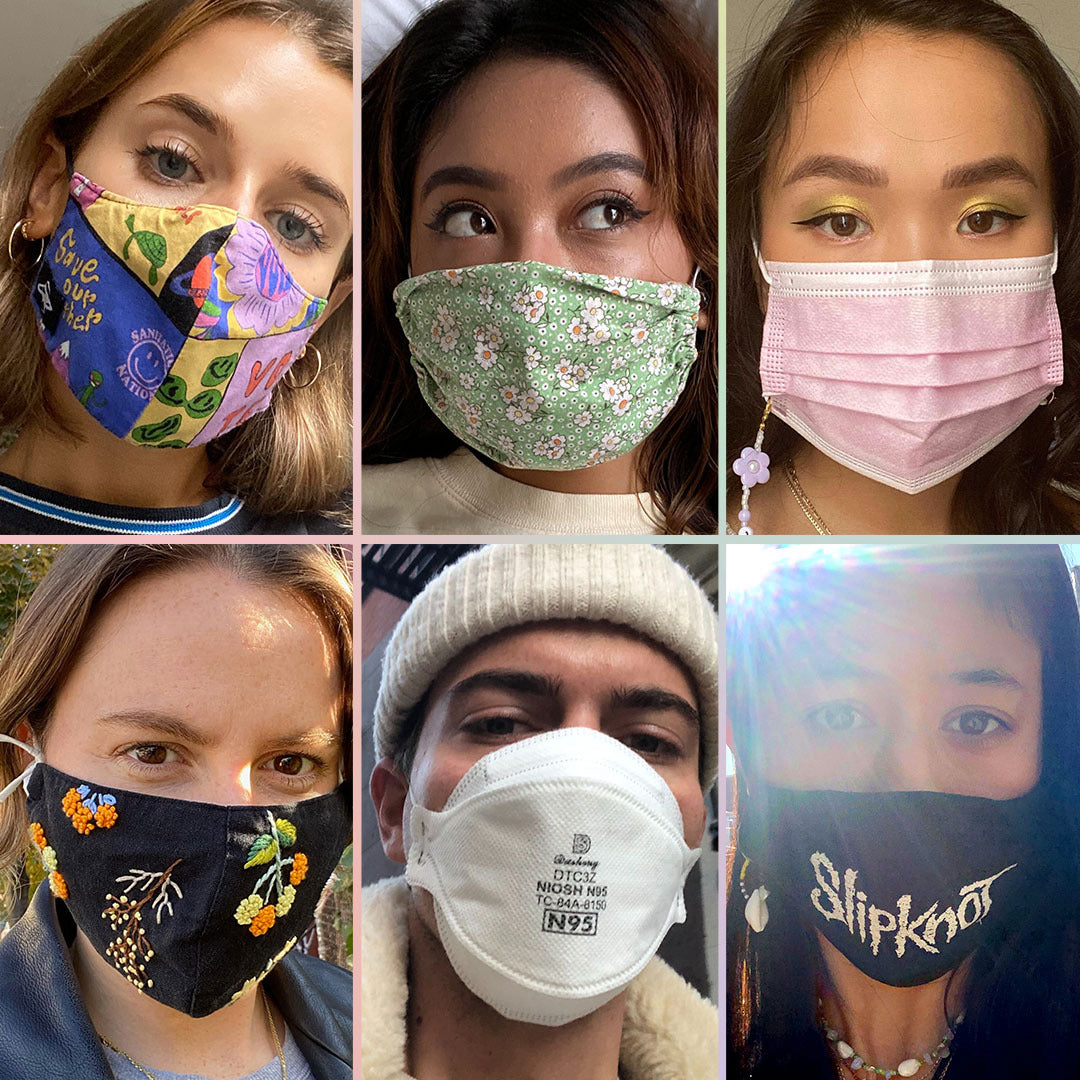 6 ZitSticka Staffers on Managing Mask-ne
Masks are necessary. Masks are good. Masks are saving lives! This, we know is true! We are also positive that they are, mostly, the clear, unwavering culprit when it comes to breakouts anywhere below the nose area these days. While we are okay to sacrifice our skin for the greater good of humanity, there are still ways to cope with what dermatologists call "acne mechanica". Let's chat with 6 ZitSticka staffers on how they're managing their skin while also protecting the realm.  
Corey, Customer Experience Manager.

"2020 has been stressful to say the least, which unfortunately results in more breakouts than I would like. I've been using PRESS REFRESH to get ahead of any congestion and unclog my pores before they reach a point of no return. I've also been using PRESS REFRESH as a form of self care to relax and do nothing for 20 minutes. It's my way of unwinding." 
Patrick, Senior Graphic Designer.

I used to experience deep, painful acne around my chin, so when I learned a face mask would become a part of my everyday wardrobe I stepped up my skincare routine to avoid breakouts. I went from a two-step routine (1. Face wash 2. Moisturizer) to…
1. SKIN DISCIPLINE to help prevent any possible breakouts 

2. PanOxyl Face Wash with 10% Benzoyl Peroxide (been using this since I was in high school)

3. Kiehl's Calendula Herbal-Extract Toner to remove any additional impurities 

4. SKII Essence to prep my skin for the rest of my products

5. Kiehl's Powerful-Strength Vitamin C Serum (contains hyaluronic acid) 

6. Supergoop! Superscreen Daily Moisturizer SPF 40 (a MUST, especially if using Vitamin C)

7. Supergoop! Bright-Eyed SPF 40

… and when I can feel a zit developing I zap that bad boy with a KILLA patch and REPEAT.
Vivian, Content Coordinator. 

"I've always struggled with acne around my chin area and, *shockingly*, wearing a mask has only exacerbated my persistent 'scuffle' with breakouts :D !! Here's how I cope — #1: Wash your mask every. Single. Day. I like to use a sensitive skin detergent for washing them. #2: I've started to use a more emollient-rich moisturizer to help prevent friction with my mask. I love love love the First Aid Beauty Ultra Repair Cream.  #3: I'll also cover any existing pimples with my beloved KILLA patches so they don't intensify from all the bacteria my mask can hold. I'll note that the maskne type of irritation is more so dermatitis than 'underground' zits, but KILLA makes sure those big guys are suffering a quick death while I'm doing my diligent mask-wearing. KILLA for president!" 

Janice, Marketing Director. 

"I've been dealing with stress zits because of everything going on with the world.. Also I am wearing masks daily and it's been causing a lot of zits and eczema around my lower face area. KILLA has been my life saver for protecting hormonal zits during the pandemic. A +++, is that no one sees it on the zoom calls, either!" 
Jocelyn, PR Intern.

"This pandemic has taught me that wearing masks not only saves lives, but also that everyone gets acne, and that it's totally normal to get some new zits during these times. I've been loving our new sheet masks, PRESS REFRESH when it comes to my self-care days because it's cooling on the skin and helps to unclog pores. Other than that, another major skincare love of mine has been rosewater toner because it's natural, smells great, and leaves my skin feeling super clean after. To loving yourself, maskne or not 🥂." 
Mel, Communications Director. 

"Typically, my breakouts like to sprinkle themselves across my cheeks like a fine mist of champagne (or more likely, Prosecco). They usually signal I'm eating too much dairy, or sleeping like an idiot. Since March, though, I've had a different kind of  struggle—likely the same as yours—contact dermatitis around the chin (maskne). I've been using a low percentage cortisone in the form of a gel. I find it's helpful for both providing a barrier between my mask and existing irritation, and also turning down maskne redness while I'm at home. I also use PRESS REFRESH twice a week to keep my pores unclogged and soothe irritated skin. After 20 minutes, my skin feels super smooth and like I've given it a tall glass of water."
 Want to explore more on the topic of maskne? Have we got the playlist for you! Click here to broaden your horizons and get educated.