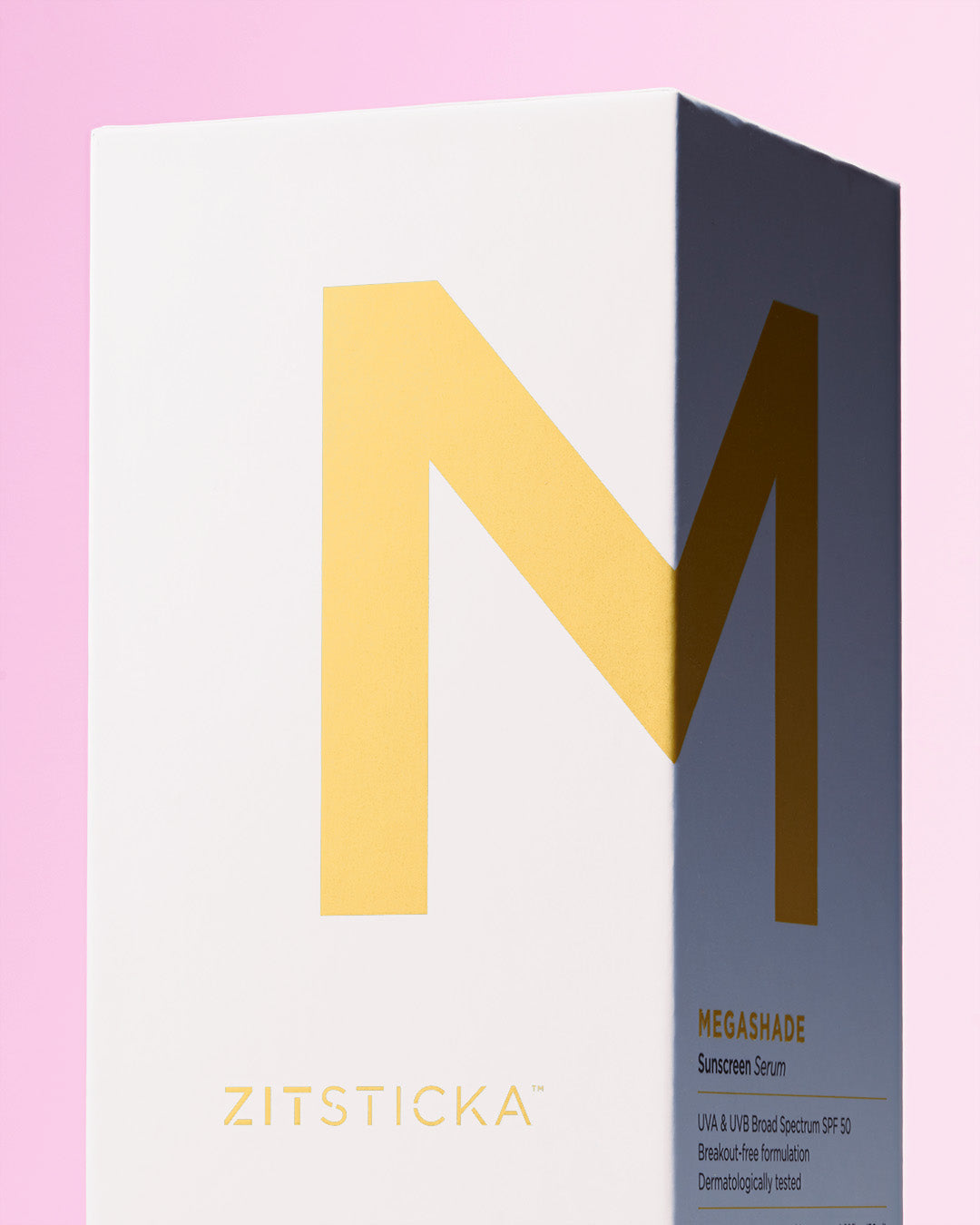 BEHOLD: A No-White-Cast Sunscreen That Won't Break You Out
By: Madeleine Woon
It's OK, you can step out of the shade now. The moment you've been waiting for since reading this very unsubtle spoiler has arrived: ZitSticka's MEGASHADE sunscreen just dropped from the high heavens, bringing with it an end to sunscreen-induced breakouts and the *ghastly* white residue responsible for giving SPF a bad name.
Dramatic? Perhaps. Impeccably timed, too. As lockdowns begin to loosen and summer in the city really kicks off, it's only natural that you'd want to set your limbs free from their denim/wool coat trappings, find your nearest patch of grass or inner-city watering hole, and bask in the sun until your heart and vitamin d stocks are content.


Say hello to your new friend
Friends, this is MEGASHADE, a broad-spectrum SPF50+ serum that's built for daily protection against that big burning star at the center of the Solar System. It should interest you to know that your new pal was formulated specially for acne-prone skin, too.
How well-acquainted should you be?
Apply daily in the AM after your skin routine and before you put on makeup. As is the case with all sunscreen, you'll need to be reapplying every 3 hours for adequate protection against the rays. The #1 priority is to keep your beautiful epidermis free of sun damage, so while we can't make any promises that it won't mess with your foundation a little bit, we think you should roll the dice and stick to 3 hour intervals, regardless of your makeup routine that day.
But isn't SPF, like, bad for breakouts?
The internet can be a #blessed place, but it can also be a quagmire of misinformation, including a few commonly-held misconceptions around acne-prone skin and sun protection. Allow us to bust three of those myths…
1. All sunscreen clog pores
I'm not going to pretend that a) I haven't fallen victim to this very fear, and b) that there aren't sunscreens on the market that will plug your pores like a drain. But, not all sunscreens are created equally, so you should always be on the lookout for non-comedogenic (or non pore-blocking) 'screens, like, you guessed it, our very own MEGASHADE.
2. Sun exposure clears up acne and hyperpigmentation
My hat goes off to dermatologists around the world who work tirelessly to disprove rumors that going in the sun sans sunscreen can clear up acne and reduce hyperpigmentation. That's a big ol' no sweetie from us. In terms of clearing up acne, board-certified dermatologist Caroline Robinson, MD has this to say: "Sometimes after sun exposure, surface acne does look less inflamed, even clearer, because the skin dries out and temporarily produces less sebum. But that acne and inflammation still exists under the surface of the skin, and exposing it to the sun without protection can lead to much bigger long-term problems, including a higher risk of scarring, hyperpigmentation, and more persistent breakouts — not to mention skin cancers."
As for the sun clearing up hyperpigmentation? Just no.
3. Sunscreen will immediately irritate skin and lead to a breakout
Pity the fool who tries to do something nice for their skin by applying SPF, only to have it backfire by resulting in a breakout. I've been burned by this before, but I refuse to be *literally* burned by the sun as a result. The lesson here is to look for sunscreens that are lightweight and fragrance-free, and won't therefore cause irritation to acne-prone skin.
What's so special about MEGASHADE, tho?
This is not your run-of-the mill sunscreen, my sun-loving pals. Firstly, it's a comprehensive SPF, which means it combines the best of both mineral and chemical lightweight formulations into one glorious little bottle of SPF that protects against both UVA and UVB rays. Formulated with 3 antioxidants, it improves the photo-protection of the skin alongside SPF, helping to prevent against aging caused by the sun and hyperpigmentation. As if that weren't enough, it will also go into battle with your acne, thanks to the cocktail of niacinamide, tea tree and colloidal oatmeal, which work to reduce redness and surface-level inflammation.
Next up, it's a certified hydration station, something we all need a little more of in our lives. The sunscreen locks in moisture and hydration, while also strengthening skin cell barrier. Dermatologically-tested, 100% non-comedogenic and fragrance-free, the lightweight serum fits seamlessly into your everyday routine, reduces dullness and is perfect for sensitive and acne-prone skin.
Last but not least, the ingredients list!
A.k.a the real hero of this story, MEGASHADE's ingredients list will make your pimples and those pesky UV rays shake in their boots. Here's a quick rundown of the ingredients that not only promise to protect your skin from sun damage, but that will also soothe your skin, reduce inflammation and bid adieu to your breakouts…
Niacinamide — soothes redness and inflammation associated with breakouts
Ferulic acid — strong antioxidant that helps to reduce inflammation
Colloidal oatmeal — antioxidant and anti-inflammatory benefits, helps to lock in moisture
Kakadu plum — highest known source of Vit C, renowned for helping with inflammation and being ideal for sensitive skin
Tea tree — antibacterial nature helps to repel breakout-causing bacteria
Ceramide NG — helps skin retain water and to remain supple, smooth and hydrated
Behind every great main ingredient is a great supporting ingredient. These four supporting ingredients work with the above list to make MEGASHADE what it is today…
4-active SPF blend — protects skin from UV rays and sunburn, preventing sun-induced aging and hyperpigmentation
Aloe vera — helps to kill acne causing bacteria whilst soothing irritation caused by breakouts
Vitamin E — a powerful antioxidant that helps reduce UV and free radical damage
Hyaluronic acid — moisture magnet, keeping the skin hydrated and elastic
No that you both have formally met, let's talk more about why you MUST wear sunscreen at all times (during the day)... even at home.