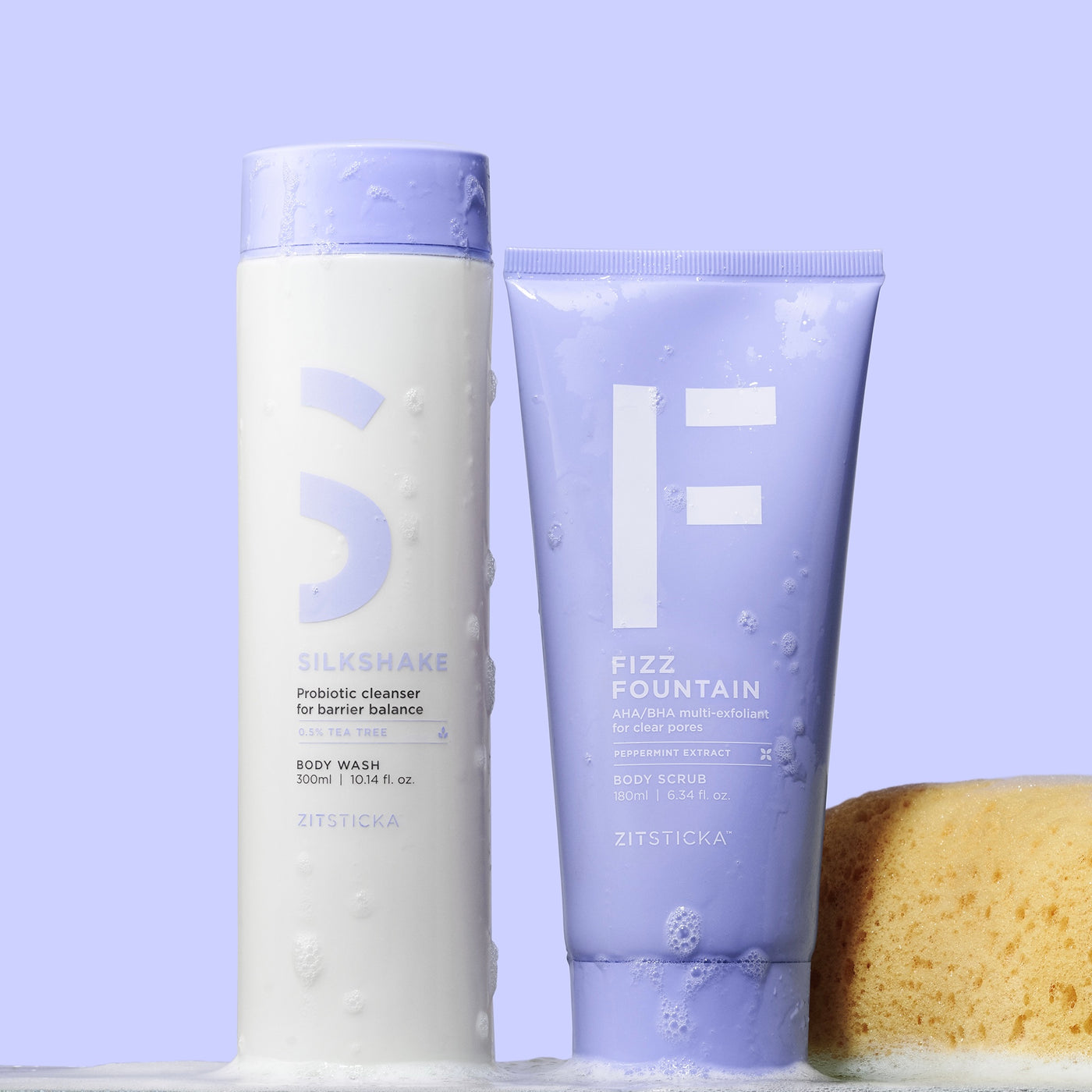 Bubble, Bubble... Say Hello To BODY DOUBLE!
by Clare Daly


When I think of acne, I think of faces: whiteheads on foreheads, cystic bumps on chins. I, like most people, have years and years of practice for when an unexpected cheek zit pops up.
From a new spot treatment to an incremental change in diet, there are so many options to combat facial acne, but what's the plan for when acne decides to make itself comfortable somewhere else?

Your butt, back, and chest are the most likely places for body acne to appear. Annoying is an understatement, and sometimes a regular body wash just doesn't cut it. After a workout, a cold winter day getting you down, or that time of the month, you need a cleanser that targets flare-ups and tells those zits to get out (and stay out!) 

Much like the high school classmate whose seemingly innocent "Hey there! Let's catch up!" messages can turn into a pyramid scheme pitch before you know it, body acne can surprise you at any time. Lucky for us, that's where Body Double comes in. This dynamic duo of breakout busters— one soothing cleanser and one combined exfoliant— uses derm-backed science and ingredients to treat body acne and prevent it from creeping back into your life.
(SILK)SHAKE IT OFF
SILKSHAKE is a cleanser filled to the brim with nutrients and microorganiosms to untangle any somatic snags that may come your way. Lactobacillus ferment (Lactobac for short) tackles your microbiome.
Time out: what's a microbiome? In short, it's the community of itty-bitty worker bees that keep your health in check by rubbing elbows with each other inside your skin, gut, and other parts of the body. Read more about the science behind it here.
Probiotic Lactobac also reduces redness and is on the defense when outside stressors come about. Take that, sweat! And this, pollution! Aaaand that, sun!
After lactobac fights off the villains of the skin world, natural humectants inulin and glycerin mop up the mess. They take in water to preserve the dewy, healthy appearance of clean skin and keep your durable dermis hydrated. Coconut fruit extract seals the deal by sealing off your skin, healing past harm, and protecting it from future damage.
Linoleic Acid, Oleic Acid and Alpha-Linoleic Acid (aka Omegas 3, 6, and 9) are a texture triple threat: they combine to revitalize tired skin cells and improve overall skin tone. That's not all! These fatty acids ensure your skin stays trampoline-level bouncy.
Unlike koalas and kangaroos, tea tree oil smells good and unclogs pores. This Aussie ingredient can be irritating in larger quantities, so there's just a drop or two to top off this sudsy skin-saving lather.
Taylor said it best, when body acne's got you down, just (SILK)SHAKE it off (sorry).
FEEL THE FIZZ
FIZZ FOUNTAIN is a hybrid hero, mixing chemical and physical exfoliants to expel flaky, dead skin and combat body acne. After washing with SILKSHAKE, try this scrub and see for yourself how its trio of acids kick stubborn acne to the curb.
With the unbeatable combination of these amazing acids and a refreshing dash of peppermint oil, a wash by any other name wouldn't smell as fresh.
Glycolic and lactic acid dissolve dead skin cells while taking the utmost care to preserve your skin's all-important moisture barrier. They're on the cleaning crew as well- they buff and smooth the texture of the new surface skin that appears once the dead skin is gone.
Salicylic acid burrows into the surface skin and clears it of debris and dirt from environmental stressors like pollution and bacteria. Sal works quickly and quietly to make your once-congested pores clearer than ever.
Peppermint oil isn't just a scented add-on to this banging body wash. It also repels the nastiness that may come in contact with your body over the course of a busy day, and blocks out excess oil to prevent breakouts. 

Otherwise known as B3, the legendary ingredient niacinamide teams up with the natural substances in your skin to get rid of redness and even out skin tone. Your skin's relaxed and sensible sidekick niacinamide can also help to repair signs of damage.

These chemical exfoliants would be lonely without a little help from a physical exfoliant: pumice grains and bamboo powder are derived from nature and work in tandem to gently refine the skin's surface. Don't worry, these aren't the microbeads of the 90s: FIZZ FOUNTAIN's small but mighty granules won't cause microtears on your delicate skin while they work hard to bring back its shine.

No need to fear, skinthusiasts: FIZZ FOUNTAIN is here!


Shop the BODY DOUBLE duo here and say sayonara to bothersome body acne.