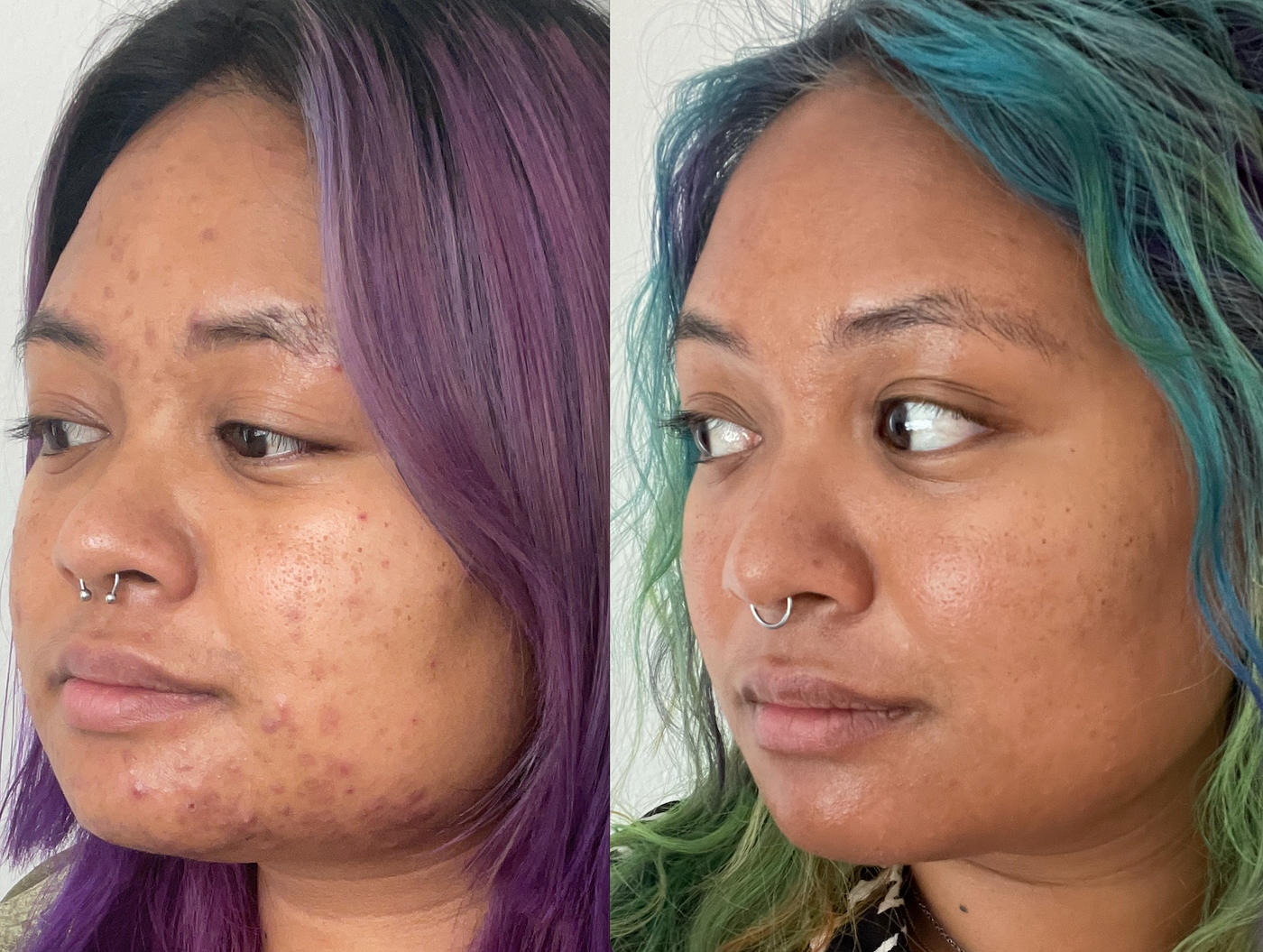 Expensive Skin Brightening Treatments vs. BLUR POTION
By: Lee Phillips
So, here's the thing. Hyperpigmentation (let's call it HP?) is super common. Melasma, post-inflammatory hyperpigmentation, sun spots that develop with age—most of us will experience some form of HP in our lives. Some of us may not give it a second thought, or we may try every available tool that promises to break down melanin deposits with peels and lasers. In between the "do-nothing" folks and the "will risk it all crowd" is a happy solution that many might not know about. You don't need to break the bank and risk your face to brighten and even your skin tone. It starts with knowing what's what. 
So, what is out there?
Unfortunately, not everything offered to fight HP is hunky dory, but in order to make the right choice, it helps to be educated. Remember the episode of Sex and The City where Samantha got a chemical peel and freaked everyone out with her ghoulish appearance? Yea, chemical peels are, well... it's in the name. They are controlled acids that burn the top layer of skin off so that it peels, revealing less hyperpigmented skin underneath, and triggering skin rejuvenation. Ranging from light to deep, even medium peels can have a recovery time of up to ten days. The deepest peels can take months to recover from, and may even require sedation. Like, what?!  The other common HP fighting treatment is laser skin rejuvenation, which essentially does all the burning away of the skin as a peel does, except with lasers. Unlike a chemical peel though, lasers can heat and tighten deeper layers of skin. Like peels, they range in severity and down time.
It's stressful just to write this, so why would someone put themselves through this? While the results can be dramatic, they both have some jarring side effects including infection, scarring, and the craziest one of all: hyperpigmentation! The very thing you're going in there to treat! Because these treatments are causing damage to the skin, peels and lasers can trigger melanin deposits as an immune response in some patients. Yes, you're reading this right. When you walk into a derms office for a chemical peel or laser facial to get rid of hyperpigmentation, you run the risk of walking out with MORE hyperpigmentation.  For those with darker skin tones, these kinds of treatments are not even an option for this very reason.
Red flag, much?
If you are willing to take the chance, the cost of these brightening treatments are sure to (gate) keep many out of the office. According to 2020 statistics from the American Society of Plastic Surgeons, the average cost of laser skin resurfacing ranges from $1,445 to $2,509 USD depending on the kind of laser you use (ablative vs non-ablative). At an average of $500 USD, chemical peels are less, but still—that's like half your rent for one treatment. And with chemical peels, you often need more than one. That's some expensive upkeep!
Your (Inexpensive) Saving Grace
So, at this point in the article you may be in despair. Do not worry, not all effective HP fighting treatments require risk of infection, hiding in the house while your face falls off, and taking out a loan at the bank. Why hello there, BLUR POTION! This daily supplement is a one a day solution that fades dark spots with powerful antioxidants from within. Sun spots, melasma, acne marks - you name it! BLUR POTION delivers key ingredients to your system to ~heal your skin, not burn it away. Grape seed extract targets UV induced pigment, while antioxidants like vitamin A increase cell turnover and decrease your sensitivity to UV over time. Vitamin E blocks pigment production and French maritime bark extract repairs skin and boosts collagen production. Did you know that blue light from your cell phone can damage your skin slowly over time? BLUR POTION does, and so she packs the synergetic sister ingredients lutein and zeaxanthin that work together to block blue light rays and protect your skin from environmental stressors.
One of the best things about BLUR POTION though, besides the effective and noninvasive HP fighting thing, is the cost (or lack thereof). While invasive treatments can cause thousands of dollars, BLUR POTION is 60 dollars a month, or 48 dollars a month when you subscribe. Because BLUR POTION heals from the inside out, it's an ongoing process that accelerates with time for continued and sustainable results. AKA, you're going to want to subscribe! Science backed ingredients, no pain, risk or down time, clinically proven results that are affordable and accessible for everyone? Sounds like a non brainer—I mean, it's called skincare, not skin abuse!
Once you've begun your journey to lightening and brightening, you'll want to protect your investment! How? With SPF of course! Click here to find out why hyperpigmentation and SPF are madly in love.