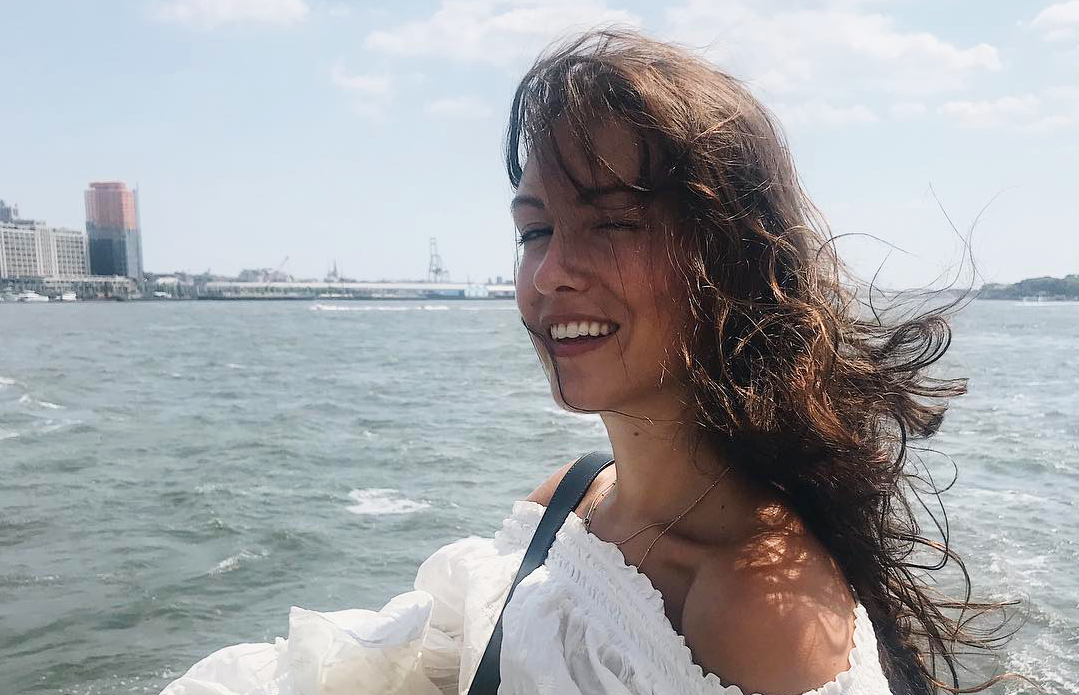 Face Time: Emma Bates, Brand Partnerships Specialist With 11/10 Skin
Welcome to FaceTime, a segment in which we interrogate the beauty whims, zit-melting strategies and self-care views of cool girls around the world. Today we're zooming in (like, right in) on Emma Bates, who is a New York based, London born brand partnerships specialist in the travel industry with skin like polished glass. 

What's your skin *like*? What kind of zits do you typically get?
My skin is more or less well-behaved, so I shouldn't complain. This is partly due to luck and partly due to me caring a lot about skincare. Any breakouts I get are typically hormonal, around the lower jaw though on the (frequent) occasions that I turn a blind eye to my dairy intolerance I am almost always repaid with a few on my forehead.
What does your day-to-day look like? Walk us through you standard routine. 
When I'm not traveling for work, I'm in the office every day. Each day is different but is usually spent working on different upcoming projects, meeting with potential partners and brainstorming new ideas. In the morning I wash my face with Go-To Properly Clean foaming cleanser, then temporarily freeze my face with an ice cube. I also use Joanna Vargas Daily Serum, and apply Supergoop Daily Sunscreen. At night it's the Go-To foaming cleanser again, as well as HERS tretinoin. Occasionally I will also put on a Glow Recipe Watermelon Night Mask. 

How well does your skin cope with so much travel? Does your routine change when you do?
I try to adhere to the same routine and have travel size products of almost all my skincare routine. I also have a very 'attentive' in-flight regime, which garners many a strange look on board but ensures I arrive with glowier skin than anyone else. 

Competitive but fair. Any tips for bitchy skin while on the move?
I definitely find that a less is more approach when on the move is better. For example, if my skin is reacting to an external stress such as a change in water, temperature, or humidity, I try to let it adapt on its own, rather than panic and attempt to fix it with a slew of emergency products. That and my in-flight regime.
Okay, you're going to have to let us in on this in-flight regime now
Exfoliating wipes or retinol, a sheet mask (Go-To again here), a lip polishing mask and a sociopathically timed moisturizing schedule. Plus water; lots of water. 

Okay wow yes dedication. Is there anything you do (or don't do!) that contributes to getting zits? 
Eating cheese. Or ice-cream. The truly unfortunate thing is that they are probably my two favorite foods in the world. I've found that sticking to a routine long-term has helped my skin become more predictable. I also prioritize skincare over make-up, which I suppose everybody says these days, but it has truly helped. 

Any skincare indulgences?
Dr. Barbara Sturm Hyaluronic Serum. I discovered it at a work event a few years ago, and somehow found a way to justify purchasing it afterward. It sinks in beautifully and my face feels instantly tighter. 

#SELFCARE: a futile millennial buzzword or something you practice with sincerity?
I practice #SELFCARE with a perhaps concerning level of sincerity. My work involves a lot of face time so carving out time to read, exercise and decompress alone is very important to me. 


Also afflicted with the occasional hormonal zit? Shop the ZitSticka KILLA patch here.