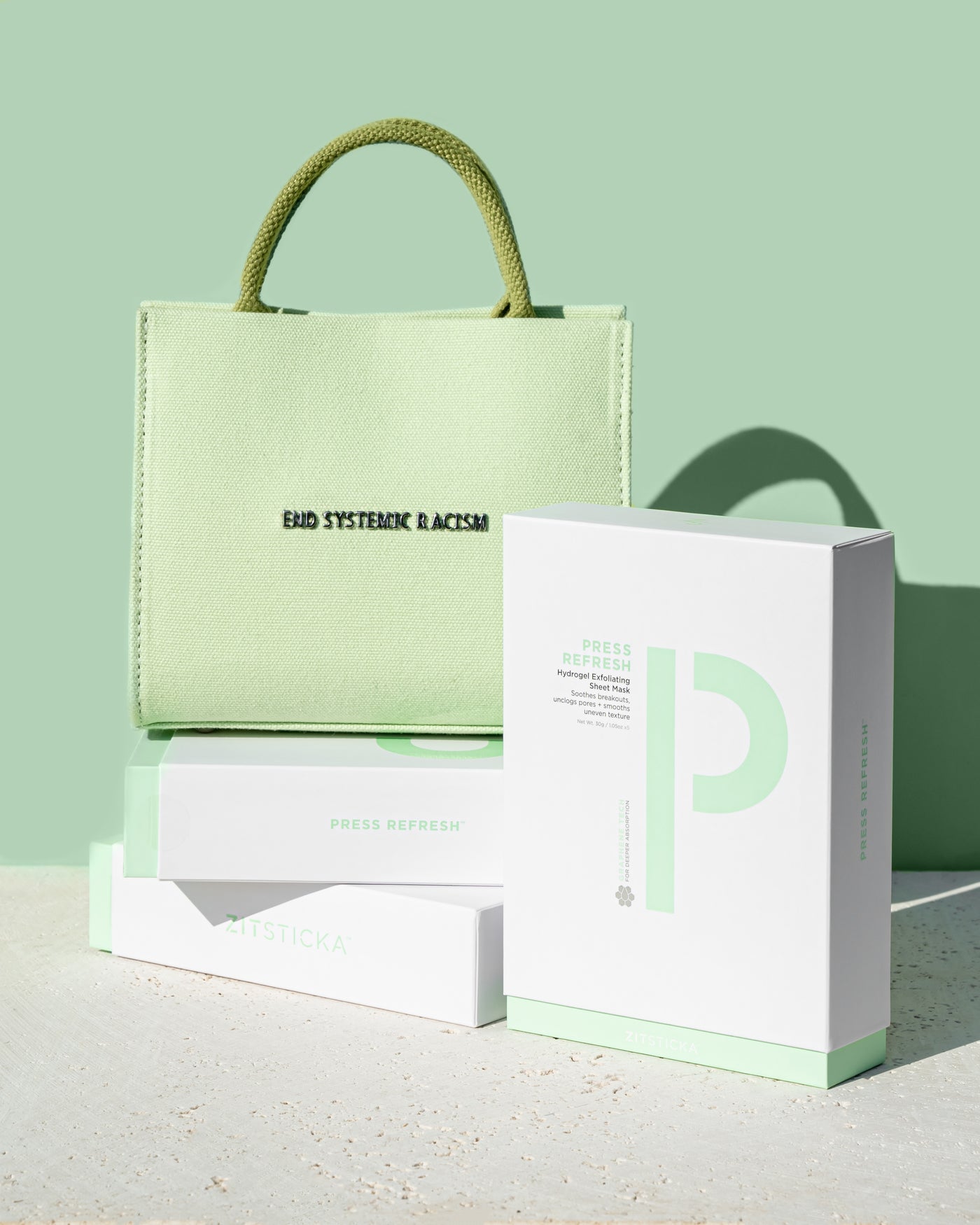 FaceTime: Brandon Blackwood on the ZitSticka Anti-Racism Bag
Collaboration is in our DNA. And there's only one thing better than working with like-minded people to create something cool—and that's when that cool something also contributes to meaningful social change. We partnered with Jamaican-Chinese designer, Brandon Blackwood to create this mini-bag with an Important anti-racist message. The mint colorway also happens to match our newest product, PRESS REFRESH :)
We sat down with the change-making designer to discuss his work, his experience as a Black creative and the amazing work being carried out by The Lawyers Committee For Civil Rights Under Law.
ZS: How did you conceive the idea for the END SYSTEMIC RACISM mini bags? What was your objective for the bags?
BB: The idea came out of necessity. 2020 has really highlighted injustices throughout the country. As a black designer and business owner I felt stuck creatively. I wanted to find a way to use my platform and skills to create an item that was chic, functional, and made a statement. That's what the ESR tote sort of grew from. It's a simple canvas tote with a powerful message, that helps fight against injustice for those experiencing it more than ever now.
"10% of Net Proceeds from PRESS REFRESH sales (Nov 2 - 9) will be donated to The Lawyers Committee For Civil Rights Under Law, a non-profit providing POC with pro-bono aid & legal council. 
40% of Net Proceeds from each ZS x BB bag will also be donated to the same organization."
Why did you want to work with ZitSticka on this partnership?
Working with ZitSticka made so much sense. Though our companies live in different worlds (design and skincare), we both have customer bases that are active, personable, and care about a brand's core values. I loved ZitSticka's initiative of calling on black writers to contribute to the brand's blogs, and the continuing efforts to spotlight black and POC voices. Allowing space to be taken up by black creatives, and using your platform as a way to promote/celebrate these voices was so great to see. Working with ZitSticka was a no-brainer. 
What has your experience as a Black man been in the fashion industry? How would you like to see this space changed for the better?
My experience can't speak for every Black creative. But I've had my fair share of highs and lows. As a black person in fashion, it's hard. I feel like I always have to prove I belong in certain spaces. I constantly feel like I'm trying to persuade people that I'm good enough, that my product is good enough, and that my vision is valuable. I've combatted that by finding peace in trusting my own process, by making sure to always celebrate my peers, and by always voicing my opinions.

I think these spaces are slowly changing though. It's exciting to see magazine covers featuring black and POC talent, it's amazing seeing so many different shades of make-up available at the counters, and it's amazing see so many black /POC creatives taking space in the editorial world. Our voices and value are beginning to be highlighted more than ever, and I think it's important that we lift up each other up.
We need to focus on supporting our peers and making our presence aware. More inclusivity in fashion means more creativity within the field. Something we desperately need.
BLM is *trending* across social media, but how can we try to ensure the message behind the movement is honored and respected, and lives on well beyond a hashtag?
We need to realize this moment isn't a trend but more so, a shift in culture. We honor the movement and respect its foundation through action. Wether it's donating, making sure to also shop at black/POC owned stores, or to continue to spread awareness through sharing information. Many small actions are what is needed to carry the larger mission. One person doing one thing may not change the world but a million people doing that one small thing will.

For people looking to get involved in forwarding anti-racism and uplifting Black bodies, voices and ideas, what would you suggest?
Sharing information and supporting those on the forefront. Finding a local organization whose mission you love and offering services, sharing information, having those sometimes uncomfortable conversations, and educating yourself on the issues. It costs nothing to read articles and stories from black voices about issues affecting our communities. In today's world, with social media being at the forefront, there are countless ways to be an ally. Find the one that works for you and do the work.

What does the Lawyers Committee for Civil Rights mean to you? Can you talk a bit about why you picked this organization to donate to?
I had reached out to attorney Ben Crumps office (represents George Floyd and Breonna Taylor) and found out about the Lawyers Committee through them. I did a ton of research and read everything I possibly could on them. After reaching out and talking with them, I immediately knew that I wanted to help the mission.

Legal fees are expensive and having a knowledgeable lawyer is crucial in fighting cases of racial injustice. The Lawyers Committee combats these hurdles by offering pro-bono legal aid/council to black people fighting civil rights cases.

In today's climate this organization is exactly what is needed. There are so many amazing organizations out there but it was crucial to me to donate the proceeds of this bag to an organization that was currently fighting the fight and dedicated to always doing that. Helping people get the legal coverage they deserve to fight cases of injustice makes total sense. I'm proud to have this bag do some of the work for the Lawyers Committee.
Shop the Brandon Blackwood x ZitSticka Limited Edition Mini-Bag