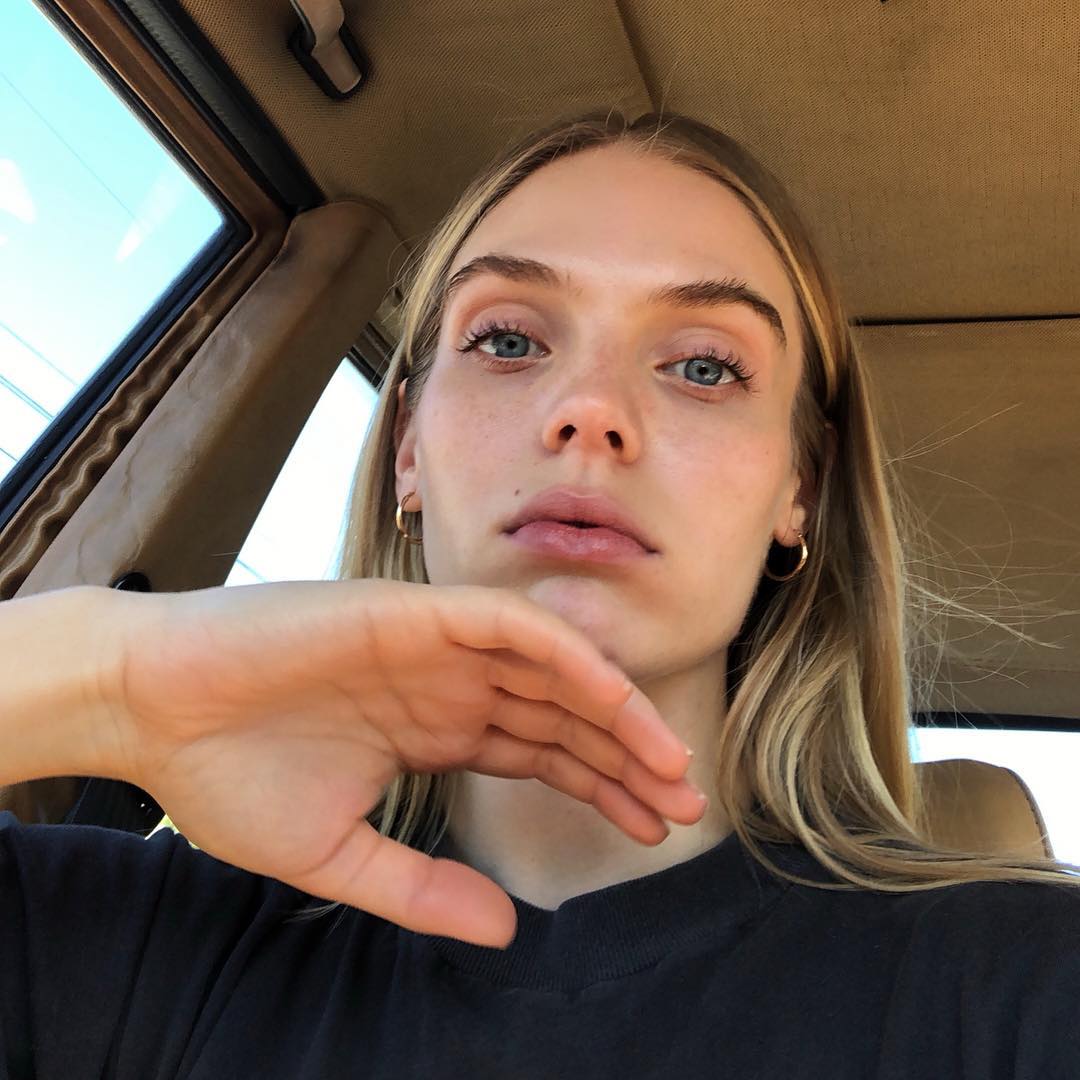 FaceTime: Model, Jordan Murray, on Hormonal Breakouts & 'Sex Glow'
By Samantha Hillman

Welcome to FaceTime, a segment in which we interrogate the beauty whims, zit-melting strategies and self-care views of cool girls around the world. Today, model of angelic features, Jordan Murray, talks hormonal breakouts and how, per the cliche, sweating and sex do, indeed, help one to upkeep a nice glow :-)

What does your day-to-day look like?
The best thing, and also the most challenging part about my job is that no two consecutive days are the same. For example, today I have been on set since 8am. When we wrap here I will be running across town to try and squeeze in a couple castings. Tomorrow, I'll spend most of my day on a plane but yesterday I had absolutely nothing scheduled. In order to stay sane, it's important to build in some rituals. I'm slow to start in the morning, I like to brew coffee and organize my thoughts. Then it's either get ready for castings or off to the gym or whatever else is on for the day. I don't particularly like working out in the mornings but I like showering twice even less, so here we are. 

What's your skin *like*? What kind of blemishes do you typically get?
In my very unprofessional opinion, I would categorize my skin as 'combination'. Which is to say it's both oily and dry and an overall pain in the ass to maintain. Blemishes, when they appear (and they always do) congregate around my chin and cheeks. Without a doubt, it's hormonal, but in a way, all acne is. 

Approaches to dealing with said blemishes?
It's counterintuitive, but less is more. When your skin is breaking out it's experiencing stress and trauma. I'm a picker, my first instinct is always to ATTACK and excavate. But carrying on with your normal skincare routine, so long as it's one that serves you, is the best thing you can do. Relax, don't over exfoliate (me!) and spot treat where needed. Easier said than done, I know. But otherwise there are too many variables! With the help of a very good dermatologist, my skin has been behaving lately, but I've been through the ringer with adult acne (hi, from us!). I would like to think that if I wasn't a model, I would be less concerned with the state or my skin, but I know that's untrue. When my skin's clear, I take it for granted. When it's stressed, I can't think about anything else. My best piece of advice is don't go at it alone. Find some professional help; life is hard enough.

Is there anything you do (or don't do!) that destroys your skin / makes it glow?
Oh god, flying really fucks me up, I can never drink enough water and I always emerge puffy & lifeless. The things that keep my skin glowing are horrifically cliche! It's everything you already know; eating lots of vegetables, not drinking too much, having sex, daily sweating (and retinol). 

Run us through your beauty routine... 
In the morning I'm rather lazy. If I'm working I'll wash my face in the shower but more often I'll just spray some rose water and slap on some sunscreen. At night I'm a little more goal-oriented! I'll take any makeup off, wash with my Foreo Luna, serum or sheet mask and microcurrent my heart out. I'm taking medication that increases your sun sensitivity at the moment and it's summer, so I'm taking a small break from the retinol. Instead I'm really leaning into vitamin C and hyaluronic acid.

What kinda tips and tricks have you stolen from make-up artists over the years?
So many! First of all, it's absolutely fine to apply your makeup with your (clean) fingers. Your body heat is the best beauty blender. Also, I think you deserve to know that cream blush and lipstick are the same thing.... yeah, I know. Oh and If you're a greasy girl like me, toilet seat covers and unbleached napkins are amazing (free) blotting papers.


Like routines? Same. Read about Simone Holtznagel and her milk-bathing tendencies here.