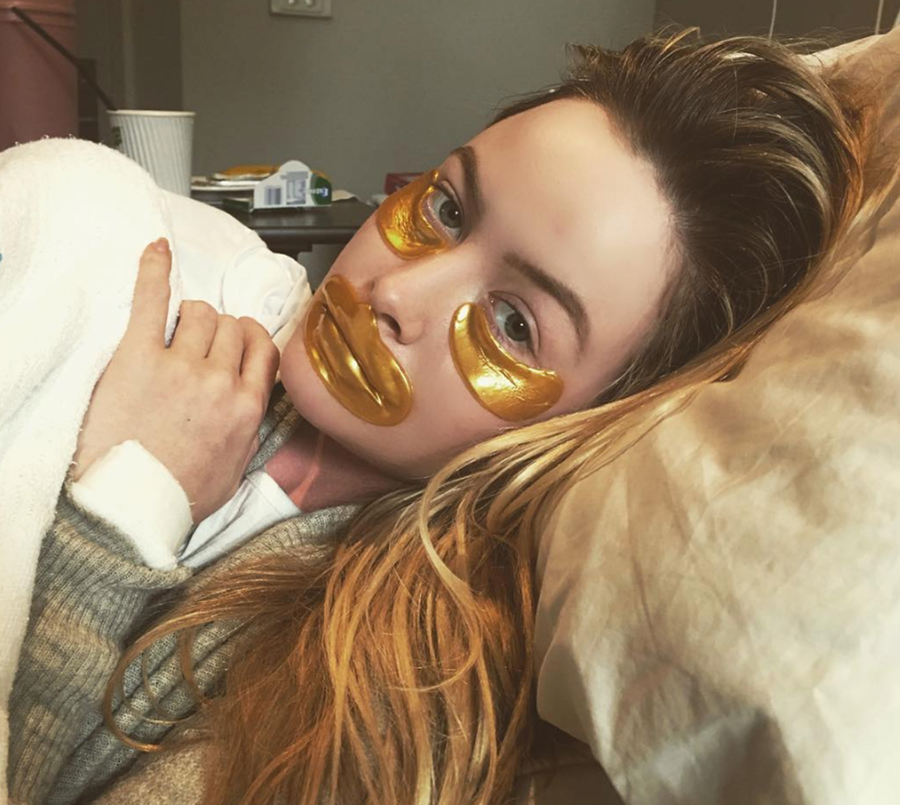 FaceTime: Simone Holtznagel, The Guess Girl With a Very Extra! Routine
Welcome to FaceTime, a segment in which we interrogate the beauty whims, zit-melting strategies and self-care views of cool girls around the world. Today we're zooming in (like, right in) on angel, Guess Girl and actual celebrity Simone Holtznagel, an LA-based, Sydney-born model and actor with an unapologetically complex beauty regime.

Talk to me about your skin. What's it like? How well behaved is it? Does it break out? 
Look, my skin was absolutely great until I moved to New York with its filthy air, and that's when things truly got real. If you want terrible skin, New York is the place for you to live. That's what it says on the bottom of the Statue of Liberty, I believe.
Prior to moving to LA, I'd only get the occasional hormonal breakout around my jawline or chin. I'm also super pale, so I wear sunscreen every day. Even when I'm inside. Basically even at night. I order this special 100+ SPF sun milk from Korea.
Dramatic. 
Get back to me in 30 years bro. 

When you're embalmed in sun milk and looking embryonic?
Exactly. And God help the rest of you. 

I would describe your personality as a combination of Patsy from Ab Fab, and Summer Heights High's Mr G. Have you always been this outgoing and confident? What was high-school like for you? 
High school was quite un-fun, because I have always been so outgoing and confident and fab that people with lesser personalities were absolutely not about it. Grew up in Australia where everyone was tanned and I was what you'd call ghost-like. Anyway they couldn't handle it.

Perhaps it was that sort of attitude that inspired your infamous line on Australia's Next Top Model: "Well, it's not Australia's next top best friend."
Perhaps the funniest thing about that is I said it not realizing that I would actually meet my now-bestie, Madge, on that show.
So what does your day-to-day, skincare-wise, look like now? 
Let's pretend I actually work. JOKES. As soon as I get up, I wash my face with a gentle antioxidant cleanser from O Cosmedics, then apply their B3 + serum to even my skin tone and boost collagen and all that. Then I use the Alpha H Daily Facial Moisturizer, and my special sun milk (the brand is MISSHA). My favorite products are the Dr Dennis Gross Peel Pads, the Dermalogica spot treatment, a B3+ Serum with hyaluronic, vitamin E oil, the Sunday Riley Sleep Oil, and prescription Retin-A. 

How do you make sure your skin is on point for jobs? Is there anything you do or don't do that contributes to zits?
I drink a LOT of water, and stay out of the sun. I also never wear make-up when I'm not working and get regular facials with Melanie Grant in Sydney. I also obviously use a lot of acids; like I'm constantly peeling or burning something off. Some girl is gonna read this and be like "bitch you use too much acid on your face.' I also eat, or attempt to eat healthily. 

How long does it take you to get ready? Would you describe yourself as high maintenance?
WOULD I DESCRIBE MYSELF AS HIGH MAINTENANCE? Oh my god you should have seen my mum's face when I said that out loud. Yes, okay, we all know I'm high maintenance. I don't see anything wrong with that though. 

So, run us through your fabled 8 hour getting-ready ceremony:
Okay yes. So I have a long shower, wash my hair, legs are already shaved the night before. Then I put leave-in conditioner through my hair, and wrap it up, put a hydrating sheet mask on, apply gold eye patches UNDER the sheet mask, like double-time masking. I next marinate in some moisturizer with a glass of wine for about 30 minutes, and roll that shit in and violently contour my chin with a jade roller.

Then, I take the mask off and set my hair in rollers, if that's what I'm doing Then I put my make-up on, which is a whole separate odyssey in itself. But I love it! I love taking the time. Getting ready is my favorite bit about going out. I've got a wedding coming up in Australia, and I'm already pumped about the lead-up: getting my hair colored the week before, getting a spray tan a few days earlier, nails, and all that. But also my ex-boyfriend is going to be there, so it's a special case. I also take up to five milk baths a week when I'm in Australia. 

Okay, Cleopatra.
No, seriously, I used to have SEVERE psoriasis so I got into it then, and even though I don't have that anymore I just love a milk bath. My bath here is too tiny and shit, but when I'm back in Australia at my parent's place, I go all out. Usually like 4L of full cream milk in there, and if I'm feeling extra fancy I add a few drops of rosewater or lavender essential oil and just soak in there for ages with a book. It makes your skin so soft. 

Any other tricks? 
Aforementioned violent contouring with a jade roller, and that French nipple cream on the lips. Also you know those Bio-K shots you get at the supermarket; the probiotic ones? Put that on your face as a mask, because it's full of enzymes and whatnot. 

I mean this question feels redundant after that, but any skincare indulges? 
This $300 blue light thing that I sit in my bed with it on my face, and I wear the little goggles. 

Okay, so walk me through how you survived when stranded in an African jungle as a contestant on I'm A Celebrity, Get Me Out of Here!
Oh, mate. Well. WELL. So you can't bring anything really, because it's a national park in South Africa and you're camping and literally showering in a riverbed. They just bring you what you need—no face wash, no make-up, no anything, just like bamboo toothbrushes and whatnot. Anyway, we had to take this medication called Doxycycline for malaria, and the UPSIDE to that, is that it's actually also prescribed to treat acne, so is great for your skin, but the DOWNSIDE is that it makes you extra sensitive to the sun, and I am already extra bloody sensitive to the sun. So anyway, I was a bit sneaky and essentially cheated the system, and told the doctor at the medical exam how I'm already pale, etc. and would be needing to take my tinted moisturizer that contains SPF.
So, still managed to look good. 

Like peering nosily into other people's beauty habits? Well, there's more.