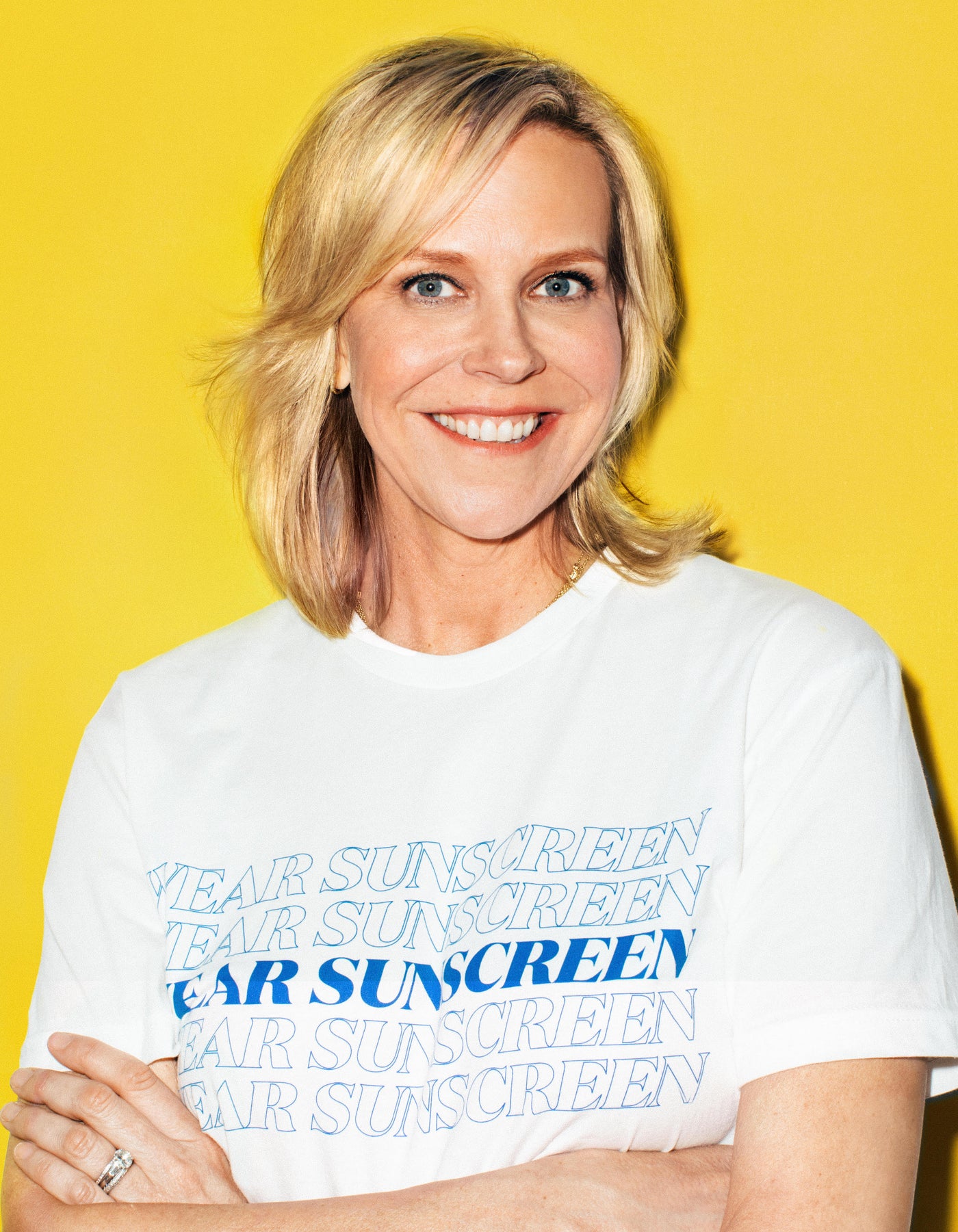 FaceTime: Supergoop!'s Founder, Holly Thaggard
By Hanna Kim 
When it comes to skincare, SPF is unfortunately a neglected yet crucial step in our routines. However, thanks to the founder of Supergoop!, Holly Thaggard, SPF is now accessible and actually fun to use! With their innovative formulations, Supergoop! has definitely proven itself to be a leader in the realm of sun-smart products. We sat down with Holly to pick her brain and learn more about the birth of Supergoop! (and possibly some business and beauty secrets!).
Hi Holly! How did you start your business? What motivated you to choose the beauty industry and specifically, something as niche as SPF?
When a close friend was diagnosed with skin cancer at age 29, I learned that it's the most common type of cancer in the U.S.—and that it's primarily preventable with the use of daily SPF. I also discovered that the #1 reason people don't wear it every day is because it doesn't feel good on their skin. So in 2007, I launched Supergoop!, a collection of ingredient-conscious, efficacious formulas that deliver broad spectrum protection in unique, user-friendly and feel-good ways, to end the skin cancer epidemic and change the way the world thinks about sunscreen. I've dedicated the past 13 years of my life to developing new ways to infuse SPF into your favorite products that have traditionally never been made with your skin's health in mind, advocating for skin health in Washington DC and creating a community of SPF superfans.
What makes Supergoop! different than other sunscreen brands?
Supergoop! is the first protective skincare brand that puts sunscreen at the forefront all year round. We engineer proprietary formulas made with the best ingredients for your skin to fight against harmful elements–everything from sun and infrared rays to blue light and pollution.
To make daily prevention routine for everyone, we infuse SPF into your favorite products that have traditionally never been made with your skin's health in mind. Since launch in 2007, we've redefined sunscreen by using best-in-class, non-toxic ingredients, and were the first brand to create an SPF without oxybenzone. Putting health and science at the forefront, we continuously update our product formulas based on new innovations and discoveries that are released around sunscreen actives and formula development.
Supergoop! Is such a fun word to say. How did you come up with your brand name?
As we were testing formulas for our first product, Everyday Sunscreen SPF 50, we finally checked all the boxes, and exclaimed that the lab sample—the "goop"—was super. Supergoop! stuck because you can't say it without smiling, just try it!
What has been the biggest defining moment in your career?
I've had a lot of big moments at Supergoop!. I remember getting into Sephora in 2011—I had flown to San Francisco to pitch them, and ultimately got six inches of shelf space confirmed for one year on their Advanced Skincare Favorites wall. It had taken years to get to that point, and it was such a defining moment for myself and the brand. 
And your biggest challenge?
SPF formulations are super tricky—there's a lot of testing involved, and it takes a certain magic to find a formula that is effective, feels good, smells good, and leaves the finish you're looking for, so we've always had a lot of perseverance baked into the culture of the brand. It might take years to develop one product, and we won't release it until it's perfect!
Do you think it's important for more women to start their own businesses? Any tips for aspiring female entrepreneurs?
I think it's most important for all people, both male and female, to solve problems and look for opportunities to make our world a better place. If you don't have a unique idea and are only looking to create or start a brand or a business, you won't have the grit to stick with it—and the reality is that to build really wonderful and meaningful things it takes time. My top tip is to make sure you are so passionate about your idea that you just can't get it out of your head; you literally can't sleep at night.
Who is your biggest inspiration and why?
In my early days I was so inspired by what Howard Schultz was building at Starbucks. He made coffee cool. He changed a category that was boring and sleepy and introduced coffee to the world in so many unique and exciting ways.
For years I worked from the Starbucks in Highland Park Village in Dallas and interestingly, it was before I even enjoyed coffee. But I would look around and see people everyone coming in and making this daily stop at Starbucks a habit in their routine. First, for me, it was the frappucino, followed then by my love for a mocha latte and now I enjoy my daily iced coffee. I knew I had to find unique and innovative ways to deliver SPF so that consumers would also make SPF part of their daily routine and ultimately buy into wearing sunscreen every. single. day.
#SELFCARE: a futile millennial buzzword or something you practice with sincerity?
What do you do to unwind? Can you share any beauty secrets? I really do love to work out, and take time 6 days a week for either 70 minutes of pilates or 70 minutes of weights, which I've been doing for years. I chose 70 minutes with my trainers, Richard and Travis, so that I could get every single second of a full hour in and not be tempted to cut my hour short. My favorite beauty advice is the most basic—drink water, get enough sleep, and wear sunscreen! In short, H2O, SPF and lots of zzzs.