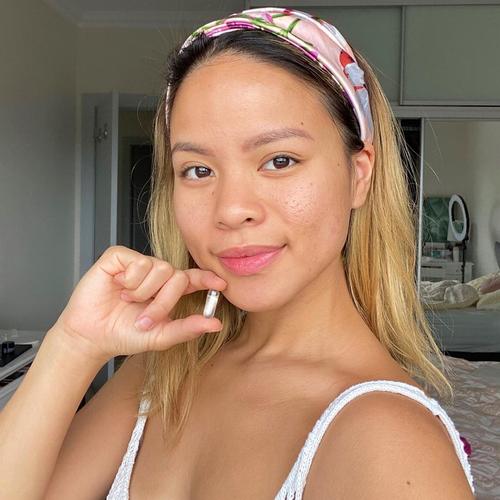 So, What's the First Month of SKIN DISCIPLINE Like?!
We gathered up some results from the early-adopters of SKIN DISCIPLINE, our breakout-specific supplement, after four weeks on the protocol. Five different journeys, five different-yet-optimistic stories. Read on!  
FEWER FACIAL AND BODY BREAKOUTS
"I am known to exaggerate BUT this stuff is legit. Not only have my facial blemishes diminished drastically but my shoulder acne is also subsiding. After about six weeks is when I really started to see a difference. My skin reacted in a funky manner [initially] with sporadic breakouts but I believe it was my body adapting. Gut health is also feeling pretty dandy since incorporating this bad boy into my daily. Overall, 10/10—I am hooked." — 
Benjamin Abboud
Improved rosacea, faded dark spots 
"SD smells like a dream come true; a super pleasant peppermint smell, the pills are normal size, unlike other vitamins that expect you to have a giant throat. And you need only one cap for the whole day and I think that's beautiful.

In my particular case I started noticing changes about two weeks into SD. The first thing I noticed was that my rosacea started to dial down and my nails feel stronger +my hair looks healthier. I used to have these dark spots on my back from my not-so-beautiful *bacne* and it looks way cleaner now. But my favorite part? The probiotics! I can tell that in my particular case taking SD + a healthy diet has improved my digestion in the past month.

On the superficial side (Because who are we kidding, we all care lol) the caps are so pretty and pleasant to look at. I will keep taking SD! I'm IN LOVE." — Rebeca Florescuevas 
Some initial purging, then improved complexion and gut health.

"Initially started out with a blind pimple, a few clogged pores, slightly oily skin and some small pustules on my forehead and underneath my chin. After taking these 1x daily, my clogged pores started to come up to the surface. I started to purge on my left cheek.

TBH, I panicked 😅 haha, but I stuck it out (thank god!) and my skin is a lot calmer and no more blind pimples! Despite a bit of hyperpigmentation, I feel like my complexion is more even and healthier! I also love that this supplement has probiotics which helps my gut! I can't wait to see what else SD can do for my skin and inner health!" — Elizabeth Nguyen 
Fewer breakouts, less redness
"I swear, right around now (week 5) my skin is showing amazing results. I feel like suddenly all my inflamed breakouts like DEFLATED overnight and my skin looks more supple. Never taken probiotics regularly or Omega 3s, or zinc! I'm shook."—Nic DiRamio
More even skin tone, improved hormonal breakouts and gut health(!)

"I really think it helped keep hormonal breakouts at bay. I had been dealing with hormonal acne on my chin but everywhere else has been clear and smooth. I noticed that SD evened out my skin tone for a more brighter appearance. SKIN DISCIPLINE also really helped my gut health, if you know what I mean *💩*" — Megan Rose
Final image: Juan Cazares