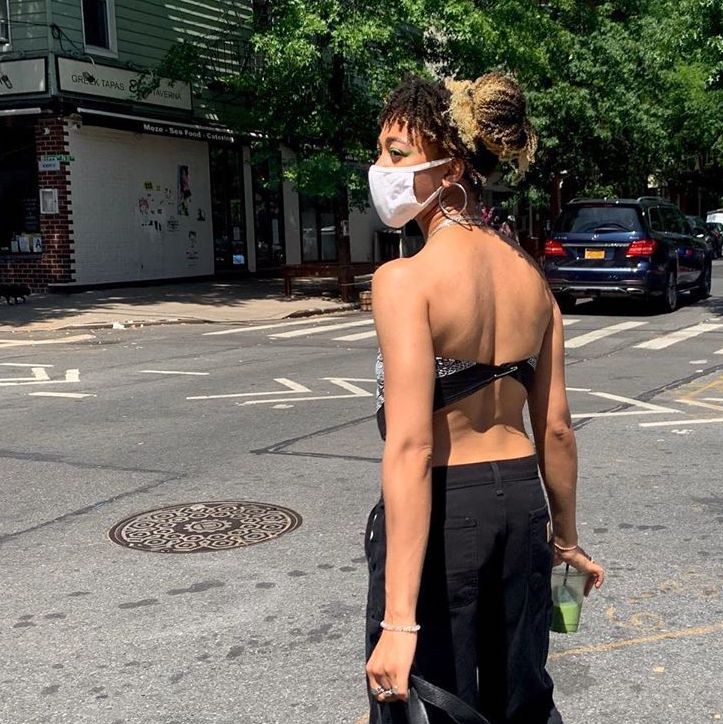 Summer + Face Masks = Maskne. Here's How to Deal
Long gone are the days of spring and summer afternoons spent out in parks, eating at the newest restaurants, or catching a few rays (skin slathered in SPF, of course) with friends at the beach. Now, with quarantine as our new normal, courtesy of "the 'rona" and Civil Rights unrest being more pronounced than ever, our minds and bodies are in a constant state of stress. his, unfortunately, doesn't exclude our skin!
If you're like me, you're at peace with this newly mandated accessory—because hey, if they keep us all safe, I'm fine with it! But with our new accoutrement comes big-time breakouts. For a little background as to why this is happening, bacteria collects and grows where there is heat. You breathe out hot air into your mask but it has nowhere to go—it's trapped in your mask and the result is what has affectionately been termed 'maskne': mask acne. Maskne is the accumulation of breakouts in areas of constant coverage and irritation like your cheeks, chin, nose and upper-lip area. With smatterings of maskne erupting every so often, I needed some new skincare tactics. After trying and testing several new maskne-blocking strategies ahead of summer, these are the ones that I'd recommend to any of my maskne-suffering peers. Behold!
First; wash your mask daily 
As our days get hotter and longer, more people are venturing outside, and that means one thing: Sweat. Though I am thankful to my body for working to keep me cool, sweating during 95 degree days and facial mask coverings are not the most comfortable marriage. While perspiration itself doesn't necessarily cause breakouts, letting it sit on your skin is something different entirely. If you're acne-prone, like me, perspiration can exacerbate clogged pores which causes acne breakouts.To keep your mask bacteria free, toss it into the wash and grab a spare while you clean the first. If you're a city-dweller like me and don't have a washer and dryer (lucky you, if you do) then a simple soak with hot water, scrub with gentle detergent and then hanging to dry in a sunny spot in your apartment will do the trick!
Second, exfoliate 
Now more than ever, our skin deserves extra time and attention. I love an exfoliating cleanser because not only does it slough off dead skin cells, but it deep-cleans my skin and removes dirt that has been sitting there all day. I have been loving Dr. Loretta's Micro Exfoliating Cleanser because it brightens my skin and treats acne at the same time. The 2% salicylic acid dives deep into pores and removes impurities while coconut oil nourishes the skin.
Third, tone
A toner gets deep into the pores of your skin, because it usually has smaller molecules than a l cleanser and cleans from the inside out. Breakouts often come from unbalanced pH levels. The Daily Acid Toner by Josh Rosebrook does that and more. It balances the skin's pH level, slows skin aging and improves skin texture. Our skin is working optimally when its at a pH level of 5.5. This means that our acid mantle is able to work properly, keeping the moisture in and the gross, bad bacteria out. 
Fourth, serum
After you've cleaned your skin down to your pores, it's time for a serum. In the summer, I prefer the 'less is more' vibe, for obvious reasons. I want serums that combat my acne, moisturize my skin, are anti-aging and of course, clean! Acne Assassin by Surreal Skincare is all of those things and more.  it contains the aforementioned, salicylic acid and a healthy serving of a benzoin sumatra extraction that zaps bacteria, fast. 
Fifth, moisturize
The second to last step, and I daresay the most important, is to moisturize and shield your skin with SPF (especially if you have hyperpigmentation, in which case check out HYPERFADE!). By now I think we all know the damaging effects of sun rays but for those in the back, here's a once over for old time's sake. UV rays penetrate the outer skin layers and pass into the deeper layers where they can damage and kill skin cells. The damaged skin begins to age faster than it would naturally, which can manifest into crows feet, smile lines or sun spots. Again, I love an all-in-one product and one that glorifies skin, especially skin with a lot of melanin, so for all of my POC kings and queens this one's for you! The Water Drench Broad Spectrum SPF 45 Hyaluronic Cloud Moisturizer by Peter Thomas Roth, gives your skin 72 hours of hydration courtesy of its 30% hyaluronic acid complex, provides UVA/UVB protection from the sun and is non-greasy. This does not leave a white cast which will let your melanin shine in all of its glory!
Sixth, patch
Lastly, ZitSticka's KILLA Kit has your back for those unexpected breakouts. Each patch is layered with 24 microdarts that self-dissolve, depositing Hyaluronic Acid, Oligopeptide -76, Salicylic Acid and Niacinamide into the skin, taking down your zit within two hours of application. I love that these patches are clear so I can wear them during the day and no one has a clue!