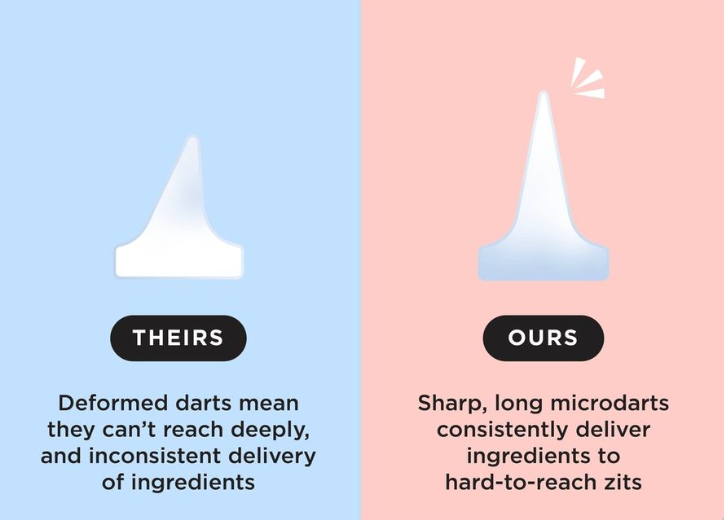 What Makes KILLA Better Than Lookalike Patches?
By: Clare Daly


Ah, KILLA. She's our first-born, our ride-or-die, our number one. She's strong, she's unique, and she beats out the competition every time. But how did this amazing zit-zapper earn her crown as the best of the best? Let's find out! 
BESTIE BASICS
Small but mighty, KILLA is built by freeze-drying our derm-backed ingredients, then shaping them into 24 individual microdarts, each with a height of 500 micrometers. (KILLA's dupes are smaller and not as sharp, meaning they fall short in properly accessing your deep-rooted zit.) KILLA's 24 microdarts are layered onto a hydrocolloid patch that has been strength-tested for adhesion and is filled with goodness to cancel your zit before it surfaces. Unlike a typical hydrocolloid sticker, KILLA can hold strong to your skin for hours of power. *end brag*
We individually package each KILLA patch by hand, so the microdarts stay sharp and don't break. These spiky legends  are quite fragile (must be Italian!), so we took meticulous measures to ensure they stay intact before reaching your excellent face. Conversely, KILLA dupes are packaged all together— stuck to a single sheet of plastic, where the (shorter, duller) darts are easily squashed before they reach your skin.
KILLA's like a best friend for your deepest zits. She'll give them hours (up to 8!) of face time to get to the bottom of their problems. Whether the root of the zit is stress from a long day at the office with that coworker, a pillowcase that's probably dirtier than you care to admit (it happens!) , or just the nasty New York air, KILLA's got you. Her microdarts are looooong! She goes where other patches can't.
KILLA's microdarts are better able to reach the heart of the zit, as opposed to other microneedles that fall short and don't reach the center, making them less effective. KILLA's best for those deep, underground situations— she'll stop them before they start. Slap on a patch and see results in 8 hours or less! 
Our signature microdarts may sound intimidating, but don't be afraid. They elicit a satisfying sensation, but they're not painful! The ingredients are the microdarts, actually—' and they dissolve into the zit within two hours of the application to make for easy removal once they're worked their magic. KILLA's microdarts are finer than a single strand of hair, and pierce only the top layer of skin. 
GETTING SKINTIMATE
What's more fun than a sleepover?! Lucky you, KILLA's power only grows when used overnight! To get the party started, she'll bring her friends hyaluronic acid, niacinamide, and salicylic acid. They form the microdarts in the patch and combined with the hydrocolloid, exfoliate, calm, and silence pesky pimples. We didn't forget to invite Oligopeptide-76 (OG-76 for short), a gentle germ-buster that protects your zit from the elements. 
Treat yourself to a relaxing evening routine: a candle-lit bath, a nice dinner, and an episode of your favorite show. (Succession or Euphoria?) Maybe catch up on The Great British Bake-Off? Up to you! We'd never dictate your viewing habits! . KILLA can't make you breakfast, but you'll wake up relaxed, refreshed, and with clearer skin. Can you say with sincerity you don't want that?!?!?!
Surprise! The KILLA kit actually comes as a dynamic duo. CLEANA wipes, included with every patch, are packed with ​​Salicylic Acid, Tea Tree Oil, and Vitamin E to clean and soothe your skin before applying a KILLA patch. Just swipe and patch!  This powerful pair makes terminating deep zits easier than ever. 
To keep your skin unsullied, KILLA's outer also has a protective shield layer to prevent absorption of oils from your fingers, nasty particles in the air, and anything else you may come into contact with while wearing our favorite blemish-buster. 
SIDEKICK SAVES THE DAY
We know KILLA's a loyal pal and an even better slumber party guest, but guess what? She's also equipped for a crisis! You know that one friend who has a Mary Poppins bag of secrets (and supplies) at a moment's notice? KILLA is that friend, but for your skin! 
KILLA's perfect for those unexpected blemishes that could otherwise ruin your day. Portable and practically invisible, you can keep these tiny troopers anywhere: slipped in your pocket or stowed away in your backpack, for when you've been bombarded with a last minute spot.
Now that you know a ton about KILLA, what about the rest of our patches? Learn more about our hydrocolloid baddies here.