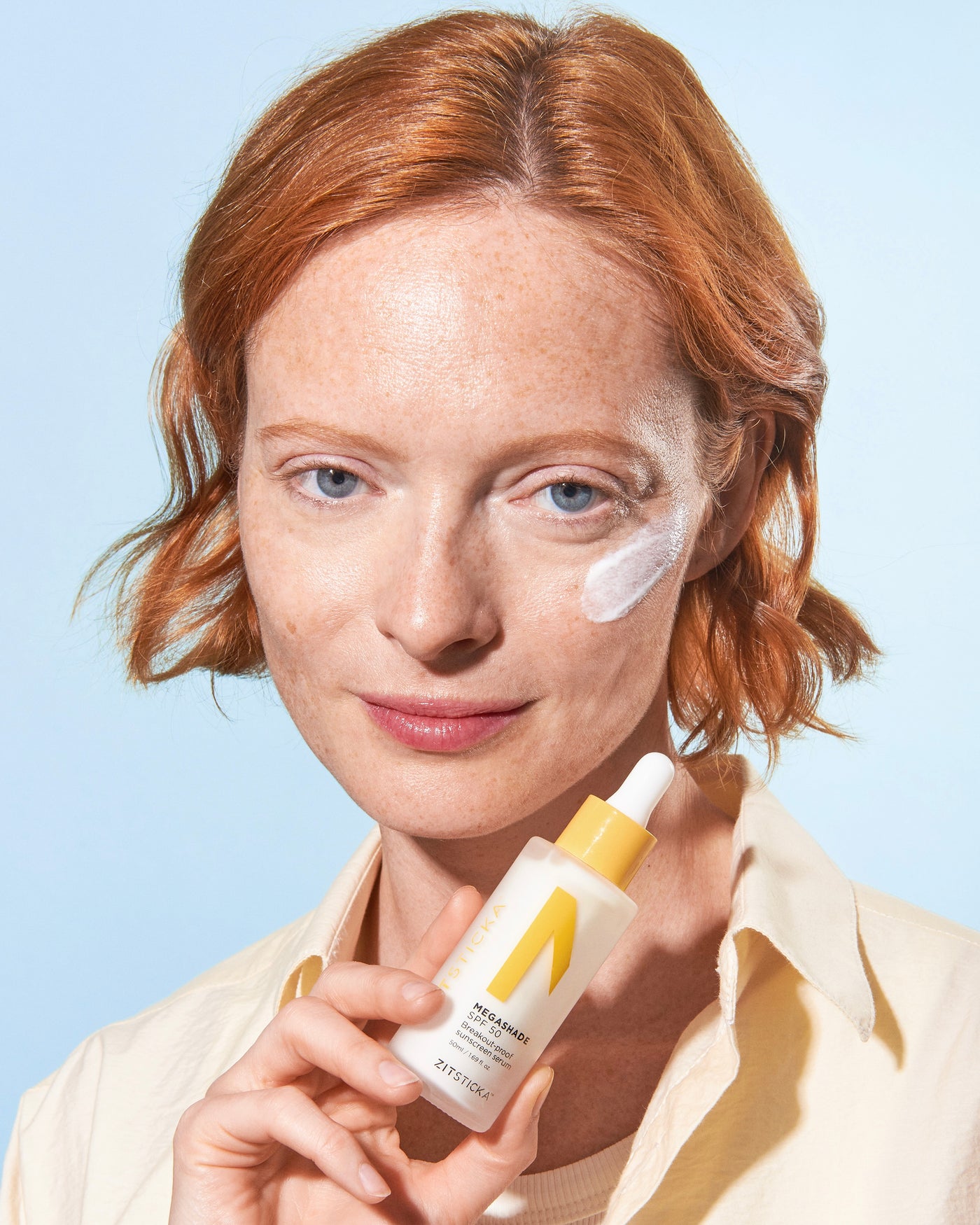 Why You Haven't Found the Perfect Acne-Prone SPF... Until Now!
By Madeleine Woon
As a pale, freckled person who grew up in a small coastal town in Australia, I was always predestined to have a long and colorful history with sunscreen. Despite an early aversion to SPF—possibly a result of the heavy hand my mom used when slathering it on every square inch of my tiny being—I learned the hard way that my chalky epidermis and hours spent in the sun were not a pleasant mix. Still, in the pursuit of a tan to match the honeyed hue of my Blue Crush idols, I limited application to sun activities, like surfing and prolonged marinating sessions at the beach with my fellow frangipani-loving friends. 
 
My skin was granted a brief tanning hall pass when I fell victim to the emo trend that swept through small towns in the early mid-00s like wildfire, engulfing every misunderstood teen (like me) in its path. The only positive byproduct from this chapter of my life was that tans were out, and borderline-anemic glows were in. I spent two entire summers inside. My skin cells thrived. 
 
It wasn't until I was well into my 20s that the advice to consistently apply SPF every single day—rain, hail or shine—became too loud to ignore. I was forced to let the noise in. The thing about sunscreen, though, is that it's often sticky, greasy, unpleasantly odored and renowned for leaving a white cast. Add to that its reputation for exacerbating acne-prone skin, and it's little wonder so many people relegate it to their beach bags, as I had done, opting to give it a miss in their everyday skincare routine as well. Nothing feels quite as insulting as applying sunscreen, a resolutely good thing you can do for yourself, and then watching as it causes a breakout on your stunning visage. 
 
But, it doesn't have to be like that, friends. There is a better way. The better way = MEGASHADE: Our new breakout-proof SPF 50 sunscreen serum (We'll refer to her as "MGS" from here on out). Let's walk through why MGS is the best, and what sets her apart from the rest… 
Why Everyone Needs SPF 
Sunscreen helps to protect your skin against UVA and UVB rays. 
 
UVA rays damage the fibers in your skin called elastin and collagen, and when that happens, your skin begins to sag and stretch. Eek. UVA and UVB rays can cause areas of the skin that have overactive melanocytes (which produce melanin) to go into overdrive, which can cause uneven skin tone. Eeeeek. Worst of all, UVB rays are the main creators of free radicals in the skin, and in some cases these can damage DNA, causing mutations that can lead to cancerous growths in many forms. Mega. Fkn. Eeeeeeek. 
 
TL;DR? Constantly being outdoors without sunscreen can cause premature ageing, wrinkles, solar keratosis, uneven skin tone, pigmentation, and, worst of all, skin cancer.
Why The Bad Rep With Acne-Prone Skin, Tho?
Despite how pressing the above is, acne-causing formulations can still act as a big deterrent for some when it comes to sunscreen. Two things can contribute to sunscreen-related pimples: clogged pores from comedogenic ingredients or a sensitivity to chemical UV-blocking agents. In other words, the mineral sunscreens can sit on top of your skin and congest up pores, while the chemical ones might irritate vulnerable skin. 
 
Luckily for us humans, MGS's forward-thinking formula was created for sensitive, acne-prone skin.
Why You Want MEGASHADE In Your Arsenal 
Please see below for a handy checklist of everything MEGASHADE accomplishes… 
 
1. A Comprehensive SPF50+ 

 
Why choose between sunscreen types? Why can't we have both? MGS is a lightweight mineral and clean-chemical SPF50 formulation that protects against both UVA and UVB. In other words, she prevents both sun-induced hyperpigmentation and aging. 
 
2. Improved Photoprotection 

 
MGS is formulated with Ferulic Acid, Kakadu Plum and Vitamin E to improve the photo-protection of the skin alongside SPF, which… drum roll… also helps to prevent aging and hyperpigmentation! 
 
3. Acne-fighting 

 
You're here because you need a sunscreen that doesn't exacerbate acne, but we're here to tell you that you are setting the bar too low. MGS is an SPF that fights acne, hon. Her nifty ingredients like Niacinamide, Tea Tree and Colloidal oatmeal help to reduce redness and surface-level inflammation caused by acne. Just saying.
 
4. Hydrating 

 
Keeping skin hydrated is our #1 pastime. That's why we formulated MGS with skin quenching ingredients like Ceramide NG and Hyaluronic Acid, both of which lock in moisture and strengthen skin cell barrier.  
 
5. Everyday Wear 

 
If the world has to suffer one more thick, sticky sunscreen that doesn't blend in and/or leaves a white film, I swear to gawwwwd. Less of that, more of MGS's lightweight formulation and serum-based sunscreen that slots easily into everyday life—not just sun activities. Extra points for her for reducing dullness and improving skin luminosity. 
 
6. Dermatologically-Tested 

 
MGS is 100% non-comedogenic and fragrance-free, and therefore suitable for sensitive and acne-prone skin. Non-negotiable.
 
7. A Makeup Primer 

 
MGS also doubles as a primer, helping your foundation to easily glide on in the morning. You don't deserve anything less. 
 
So, there you have it folks. A nifty and super general guide to what makes MEGASHADE so exuberantly fantasmic. 
 
Click here
to have your top 7 MEGASHADE questions, answered!