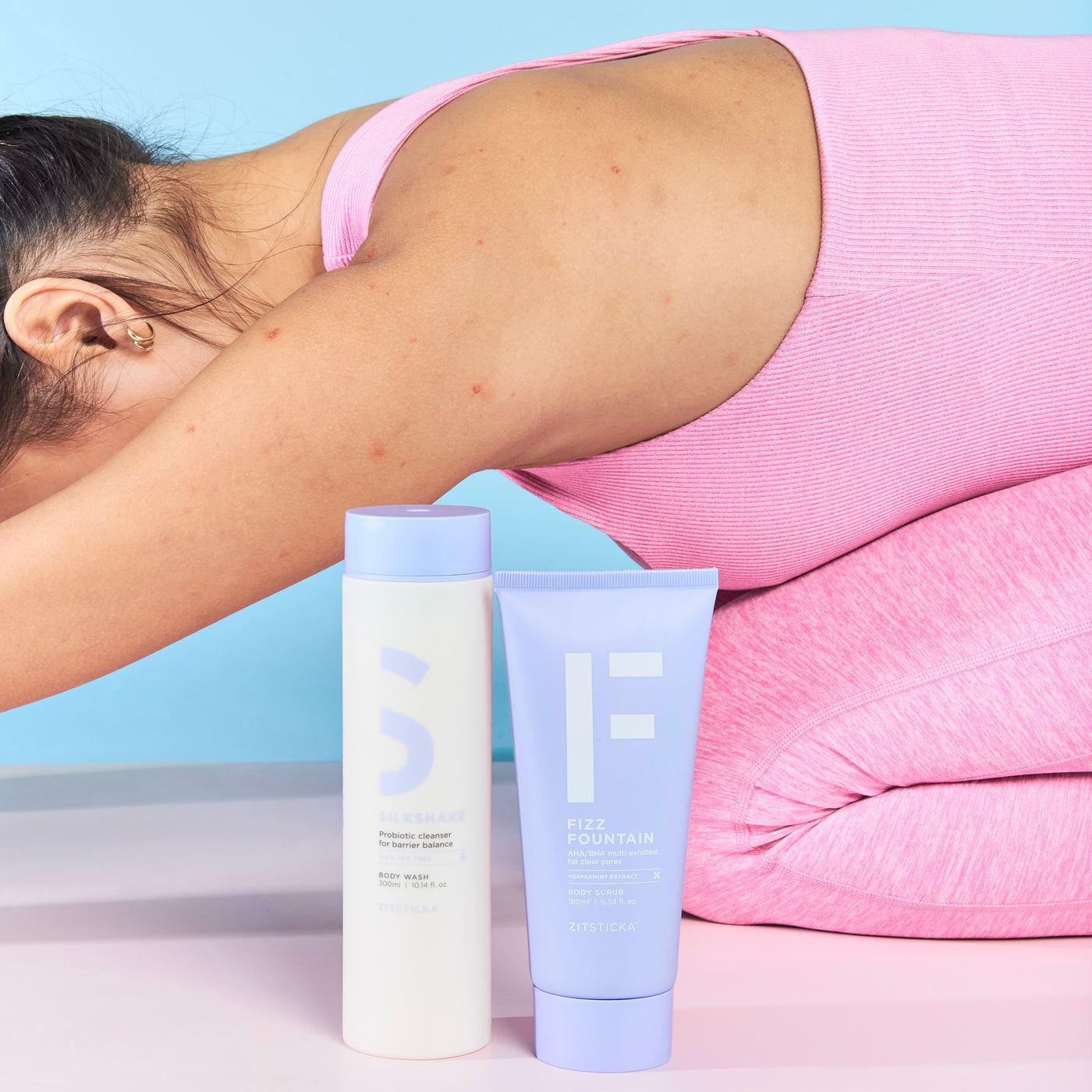 Working out? Great!! Breaking out after? Not so much.
By: Madeleine Woon
I wish I could bottle up the feeling that a particularly vigorous HIIT class brings to use as my early morning alarm clock, when, invariably, a torrent of increasingly creative reasons why I should stay in bed fill my thoughts.

A fiend for endorphins, there is nothing that lifts my mood quite like a cardio workout. This is especially true when I'm in the throes of a stressful week at work, feeling the bleugh-ness from a particularly pasta-heavy or boozy weekend, or spending too much time hanging out in my neurotic brain. Really, the benefits of exercise are endless.

The one crucial flaw of a good sweat sesh? Workout-related body breakouts. An affliction that affects a lot of people—myself included—is caused by an increase of sweat blocking pores, which causes the skin to react in the form of unwanted acne.

Workout acne is caused by pore-blocking sweat, dirt and oils that encourage bacterial growth — something my cleavage is all too familiar with. Certain bacteria proliferate in blocked pores and cause an immune response that leads to pimples. Any place where you sweat — your lower back, arms and underneath your bra — are all spots where you can develop, well, spots!
This, like my aversion to getting out of the bed in the morning, isn't an excuse to side step exercise and its plethora of benefits. See below for tips so you can have your proverbial cake and eat it too…
WEAR BREATHABLE, MOISTURE-WICKING CLOTHES
Choose workout gear that's breathable and well-fitting — it can go a long way to preventing breakouts. If sweat is trapped under non-breathable fabrics, it can lead to breakouts. As well, if your clothing is tight and chafes your skin, it can push bacteria and dirt into the skin and irritate it to the point where it reacts with pimples and bumps. Breathable materials include bamboo, polyester, micromodal, and nylon, whereas you should keep a safe distance from cotton (which is highly-absorbent and not sweat-wicking), and anything rubber or plastic-based.
CHANGE OUT OF SWEATY CLOTHES ASAP
Now, change out of these breathable yet sweaty clothes as soon as possible and be sure to throw them in the wash after each workout since pore-clogging oils and dirt can get trapped there and be transferred to your skin the next time you work out. Nice visual, no?
HIT THE SHOWER ASAP
Jumping in the douche right after your workout can prevent breakout-causing bacteria and fungus from sitting on your skin and multiplying. It's important to cleanse away sweat and bacteria, which ultimately prevents your pores from getting clogged. If you don't have time for a full shower, rinse your body at a minimum.
CHOOSE YOUR COMPATRIOTS WISELY
The dynamic duo that is referred to as BODY DOUBLE, SILKSHAKE and FIZZ FOUNTAIN are your best pals when it comes to banishing body breakouts. SILKSHAKE soothes existing breakouts with a concoction of pre, post and probiotics that balance your skin's microbiome. Omegas 3, 6 and 9 also strengthen your skin barrier, while tea tree and niacinamide soothe breakouts more than Sudan Archives' vocals do your soul. FIZZ FOUNTAIN, on the other hand, prevents future breakouts with a hybrid of chemical and physical exfoliants (think glycolic acid, lactic acid, salicylic acid, and niacinamide). This heroic body scrub refines, retexturizes and plunges deep into your pores to excavate dirt and debris, keeping breakouts at bay.
FRICTION ISN'T YOUR FRIEND
No one likes friction at the best of times, let alone post-workout. Avoid any sort of activity that promotes friction — sitting down, wearing tight clothes or a backpack — while you're still sweaty.
Is the skin on your body different from the skin on your face? Click here to find out.