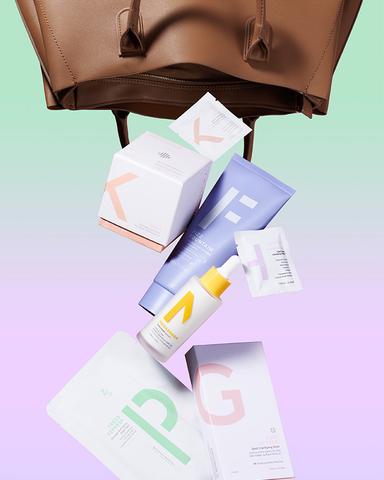 Meet the Iconic A-to-Zit Bundle (Which $aves You £30!) 
By: Lauren White


It's the season of giving. And not only are we bundling an entire stocking-full of ZitSticka products that you can get ALL TOGETHER (it's also the season of togetherness, right?) but we're even giving you a go-to guide to all of the products inside. So, here's a rundown of all ZitSticka products, from A-Zit (psssst! If you like what you read, all these products are available as one giftable bundle that saves you £30!).
KILLA: Our OG girl
What is it?
A self-dissolving microdart patch for the early-stage zit
Who's it for?
KILLA is for the blind or hard-to-reach zit! It's a zit patch powered by ZitSticka's signature microdart technology. These tiny microdarts self-dissolve to flood the heart of your early-stage zit with targeted ingredients, clearing the upcoming drama before it gets real. Each kit also contains CLEANA swabs soaked in exfoliating, de-stressing ingredients to prime the area prior to application.
KILLA is powered by 4 Derm-backed ingredients:
Salicylic acid
Hyaluronic acid
Niacinamide
It's designed with precision technology channeling the ingredients to hit your zit in 2 hours, thanks to the sharpest, longest, and more stable microdarts on the patch market.
So for the blind, unidentifiable, hard-to-reach zits, KILLA's got you where creams will struggle to access.
How to use
Swipe target area with CLEANA swab
Once dry, apply KILLA patch onto zit.
Leave on for 2+ hrs for microdarts to dissolve (for best results, leave on overnight).
Kick your zits to the curb with the help of KILLA.
HYPERFADE: The aftermath patch
What is it?
A self-dissolving microdart patch to fade post-zit damage, derm-recommended to fade dark spots, fast-forward the life-cycle of a damage spot to give you results in 2 weeks.
Who's it for?
So your zit is gone. Great! But what about the mark it left behind?
HYPERFADE is an infiltrative patch that lightens and brightens leftover dark spots after a zit has run its course. Each patch is layered with 24 self-dissolving microdarts that melt within 2 hours of application, releasing brightening, regenerative ingredients. These ingredients fade post-zit damage from the inside-out.
Ingredients:
Hyaluronic acid
Niacinamide
Arbutin
Licorice root extract
Tranexamic acid
Kojic acid
How to use
Cleanse target area and allow to dry
Once dry, apply HYPERFADE patch on to dark spot.
Leave on for 2+ hrs for microdarts to dissolve (for best results, leave on overnight).
Repeat every 3 days for 2 weeks (or until dark spot has faded to satisfactory levels).
Remember—always wear SPF when out and about!
GOO GETTER: The surface supersucker
What is it? 
An ingredient-filled hydrocolloid patch for the surface zit
Who's it for?
GOO GETTER is a moisture-drawing patch that absorbs fluid, impurities and goo from your surface-level zit to quickly shrink its appearance. Most hydrocolloid patches don't contain ingredients, but we've impregnated each GG patch with derm-backed niacinamide, salicylic acid, vitamin c and tea tree to accelerate skin clearing and renewal.
Ingredients:
Salicylic acid
Hydrocolloid
Niacinamide
Tea tree
Vitamin C
How to use
Apply a patch to cleansed, dry skin. Leave on for 6+ hours (or overnight) and remove. Reapply a new patch if necessary (until skin is renewed).
Consistency is key to get your goo!
SILKSHAKE: Breakout-fighting body wash
What is it?
A probiotic-rich, microbiome enhancing cleanser for body breakouts.
Packed with pre, post and probiotics, this nutrient-dense body cleanser balances your skin's microbiome; helping good flora thrive whilst melting breakout-causing baddies. This lather-rich formula contains tea tree and Omegas 3, 6 & 9 to diffuse redness and irritation during your daily deep cleanse. 
Who's it for?
Many body washes exist! This we know. But, few are designed specifically for acne-prone body skin, enriched with probiotics to balance your skin's delicate microbiome to restore your moisture barrier, creating a canvas that makes it difficult for bad bacteria to proliferate.
Regulates 'good' + 'bad' skin flora 

Reduces body breakouts

Strengthens moisture barrier

Soothes red, irritated skin

Hydrates + protects

Ingredients
Prebiotics, probiotics, postbiotics

Omegas 3, 6 & 9

Tea tree

Acai berry

Glycerin

How to use
Massage it all over body; shoulders, knees and toes! A rich lather will follow. Rinse off when ready. Use daily. 
For best results, use in tandem with FIZZ FOUNTAIN™ body scrub. ⬇️⬇️⬇️⬇️⬇️
FIZZ FOUNTAIN: Multi-exfoliator for body
What is it?
An AHA/BHA body exfoliator for clear pores. A hybrid of chemical and physical exfoliants, this supercharged body scrub refines and re-texturizes. Salicylic, lactic and glycolic acids wiggle inside your pores to clear dirt and debris, while superfine pumice grains and bamboo powder gently slough away dead surface skin.
Who's it for?
FIZZ FOUNTAIN is here to up your body scrub game. If you're looking to prevent any future breakouts, fade dark spots, unclog pores, smooth your skin's texture, all with derm-backed ingredients.... by golly you've come to the right skincare brand!
FIZZ FOUNTAIN specializes in...
Unclogging pores of dirt and grime

Smoothing and refining

Blocking future breakouts


Ingredients:
Glycolic acid (AHA)

Lactic acid (AHA)

Salicylic acid (BHA)

Pumice grains + bamboo powder

Niacinamide (B3)

Peppermint oil

How to use:
Using a circular motion, massage FIZZ FOUNTAIN onto your body, concentrating on rough or textured areas. Rinse when done. Use 2-3 times per week. Avoid open cuts or wounds. For best results, use in tandem with SILKSHAKE body wash.
MEGASHADE: Breakout-proof SPF 50 sunscreen serum
What Is It?
Dermatologically tested suncare-skincare hybrid, formulated for breakout-prone and sensitive skin, MEGASHADE's lightweight SPF 50 serum formula is a mineral-chemical hybrid, for broad-spectrum protection from UVA and UVB rays. Blending sheer-to-clear for a luminous glow and zero white cast, MEGASHADE is a 6-in-1 multitasker:


Who's it for?
Brightens + blocks dark spots
Intensely hydrates and promotes supple bounce
Silky makeup primer
Ingredients
Mineral filter
Hyaluronic acid
Chemical filters
Ceramide NG
Kakadu plum (Vitamin C)
Niacinamide
Ferulic acid
Tea tree
Colloidal oatmeal
Apply one full dropper to skin as your last skincare step, or prior to applying makeup. Reapply every 2 hours. Use daily, irrespective of weather: 🌧️ or ☀️.
PRESS REFRESH
What is it?
A multi-exfoliation mask for breakout-prone skin. Soothes redness, exfoliates + hydrates | 5 masks
Who's it for?
*Not your average sheet mask* This jelly-like cutie is drenched in exfoliating acids and skin soothers to unclog pores, refine uneven texture and bear hug acne-prone skin. Graphene—a material that syncs with your body heat—has the same far infrared waves as the human body, increasing skin conductivity so that ingredients absorb more deeply.
Dermatologically formulated (of course)
2-piece structure for a flush, slip-proof fit

Cools, soothes, unglues clogged pores

360 degrees of skincare in 20 mins

Ingredients
Salicylic acid (BHA)
Glycolic acid (AHA)
Lactic acid (AHA)
Niacinamide
Hyaluronic acid
Allantoin
How to use
After using your favorite cleanser, apply both top and bottom mask pieces for a flush, slip-proof fit. Leave on for 20 minutes. Enjoy the satisfying tingles! Remove and follow up with a nourishing moisturizer :-)
The optimal time to use PRESS REFRESH is at night, after cleansing and drying your face as normal. There are a couple of reasons for this—Exfoliating acids like those in PRESS REFRESH—can make skin sensitive to sunlight, making nighttime use safer! AND your skin does its best repairing at night while you sleep!
So, this gift-giving season you don't have to choose which gift to, erm, give. All the products mentioned here are available to buy as a bundle called the A-to-Zit Kit, with a pretty delightful saving of £30. Trust us, you're gonna be the coolest mom/aunt/neighbor/sister/cousin/dog-walker at the present-opening. 
There's no such thing as too many gift guides! Click here for another "Go-To Holiday Gift Guide w/ an ILIA Beauty Employee."